With a typical life span of 10-15 years, the water heater is one of your home's often-used but rarely seen appliances. Tucked away in a closet or the basement, it garners little or no attention until it fails. In the mad dash to replace the appliance, it can be hard to pick the most efficient model. Exploring different water heating options before your heater fails will help you select a model that meets your needs and saves you money.
If you're one of the 27 million households across the country with a water heater that is more than 10 years old, start doing your research now. It is important to not only compare the different types of water heaters and sizing options but also fuel type, availability and cost. These can all affect the operating cost of your water heater. You may also consider purchasing an energy-efficient water heater. Depending on the type of water heater you select, an ENERGY STAR qualified model could save you $360 or more over the lifetime of the appliance.
Here at the Energy Department, we are working with our National Laboratories, private companies and universities to develop the next generation of water heating technologies that are energy efficient and affordable for consumers. From a CO2 heat pump water heater that is more efficient and environmentally friendly than current heat pump water heaters on the market to an improved temperature control for tankless water heaters, these new technologies have the potential to save homeowners money and cut their energy use.
Through the Office of Energy Efficiency and Renewable Energy, we have already made great progress. A.O. Smith Corporation's Vertex water heater -- developed with funding from the Energy Department -- is a conventional gas water heater that has an improved design and lower manufacturing costs. The Vertex's technology advancements help it achieve up to a 30 percent energy savings. With funding from the Energy Department, GE developed the GeoSpring Hybrid Water Heater. Part heat pump, part conventional storage water heater, the GeoSpring water heater uses 62 percent less energy than a standard 50-gallon electric water heater and saves the average household at least $300 a year on its electric bills.
Do you have questions about energy-efficient appliances and the ENERGY STAR program? Join us on April 22 at 3 pm ET for a Google+ Hangout discussion on ways to save energy and money at home. Along with energy efficiency and renewable energy experts from the Energy Department, an expert from the ENERGY STAR labeling program will be on hand to answer your questions about reducing your energy bills.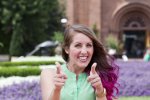 Rebecca Matulka
Served as a digital communications specialist for the Energy Department.Served as a digital communications specialist for the Energy Department.
more by this author