You are here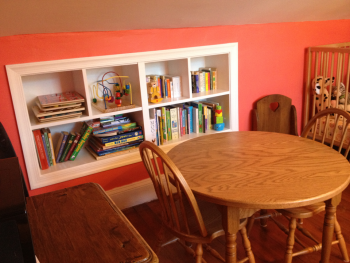 Pictured here is the knee wall in Seth Budick's daughter's room. While insulating behind the knee wall, Budick and his wife took advantage of the construction and added a built-in shelf -- an improvement that increased the room's comfort and storage. | Photo courtesy of Seth Budick.
In March, we shared the story of Seth Budick as his family began their journey to improve their home's comfort, reduce their carbon footprint and save money on their energy bills. Their first step: getting a home energy audit to learn how their home was wasting energy and money. Nearly five months later, we're checking in with Budick to hear about the energy efficiency upgrades to his home, how the improvements have impacted his family and his advice for other homeowners looking to save energy and money.
Question: Last time we talked, you were looking for a certified contractor to make energy efficiency upgrades. What improvements did you end up making?
Seth Budick: We air sealed, added insulation above the second-floor ceiling and behind the third-floor knee wall in our daughter's room, and applied an aluminum ENERGY STAR cool roof -- essentially a special silver paint that reflects the sun and prolongs the life of the roof.
Q: What energy-efficient incentives were you able to take advantage of?
SB: To pay for the upgrades, we took out a low-interest loan through EnergyWorks -- a public program supported by the Energy Department to make energy efficiency improvements easy and affordable for Philadelphia's residents and businesses. As part of a special promotion, our bank is paying the first six months of the loan -- that's equal to a 5 percent savings. I am also looking into which federal tax incentives we're eligible for.
Q: How have the improvements impacted the comfort of your home?
SB: The reason we decided to make upgrades was to make our daughter's room more comfortable. While we didn't do much to her room itself, the upgrades to the rest of the house have reduced the amount of heat that rises to her room. We also made some behavioral changes -- like closing the door to my daughter's room to keep the warm air out. It's this combination that has collectively made a huge difference to the temperature of her room -- on average it's probably five degrees colder.
Q: What kind of impact have you noticed on your energy bills?
SB: It's hard to say because it is still early. But in the first month since the upgrades, we reduced our electricity consumption by 18 percent or $28 compared to a year earlier. We also cut our home's air infiltration by 32 percent.
But our savings is just one piece of the larger picture in how our neighborhood, University City District, is partnering with the Energy Coordinating Agency, the local nonprofit that administers EnergyWorks, to improve the energy efficiency of homes in the area. The homes in our neighborhood that have had energy efficiency work performed through the program have achieved an average air infiltration reduction of 28 percent -- an improvement that is leading to direct energy savings for homeowners.
Q: What were you most surprised about when working with the contractor?
SB: How fast it was -- the work only took a couple of days. It's the paperwork that takes most of the time.
Q: What piece of advice do you have for others looking to save energy or improve their home's efficiency?
SB: Do it as soon as possible. Just like with any savings and investment, just do it -- it doesn't make sense to wait. There are all these great incentives to make energy efficiency upgrades now, and who knows how long they're going to be around.