You are here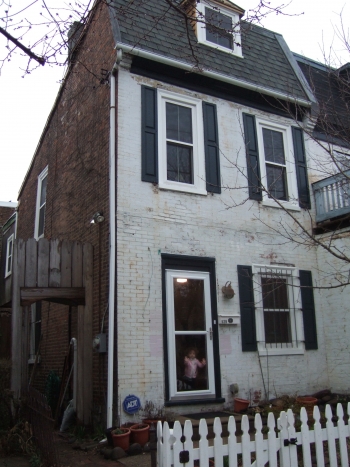 Learn how a home energy audit is helping Seth Budick and his family save money on their energy bills, reduce their carbon footprint and make their home more comfortable. | Photo courtesy of Seth Budick.
When Seth Budick and his family decided to get a home energy audit, they weren't only looking for ways to save money on their energy bills and reduce their carbon footprint. Their primary motivation was to make their home more comfortable. In the end, the home energy audit is helping them achieve all of these goals.
Last spring, Budick and his wife bought a semi-detached, three-story single-family home in the University City neighborhood of Philadelphia that they estimate is close to 100 years old. While their energy bills were lower than their previous home's, Budick and his wife noticed that the third floor -- their 18-month-old daughter's bedroom -- was 10-15 degrees warmer than the rest of the house. "On a hot day in the mid afternoon, it can easily get up to the upper 80s in that room," said Budick. "More than anything, making that room more comfortable was the main motivation for getting the audit."
To get a thorough picture of their home's issues, Budick and his wife selected a certified home energy auditor who had experience with older homes. After analyzing the family's energy bills and asking a series of questions, the auditor completed a health and safety inspection -- checking for carbon monoxide leaks, analyzing moisture levels and making sure combustion appliances operate properly. As part of the visual and physical inspection, the auditor checked the HVAC equipment and assessed the insulation levels in the walls, floors and attic. Finally, the auditor conducted a blower door test -- a diagnostic test to measure how airtight a home is. By forcing air out of the home, an energy auditor is able to determine where air is leaking and then uses that information as a baseline to measuring energy efficiency improvements.
In the case of Budick and his wife's home -- even though it had new windows, insulation in the basement and air sealing throughout -- their blower door test was 139 percent higher than the target air leakage amount. In addition to finding insufficient insulation on the third floor, the auditor noticed gaps in the basement insulation and significant amounts of air leakage.
When it came time to provide recommendations for improving comfort, it was no surprise to Budick that they needed to add insulation to the third floor ceiling and the attic space. But they also learned that they could increase their home's energy efficiency by adding insulation to the basement wall and the floor of their second-floor bedroom, putting a reflective coating on the roof, air sealing around the backyard door and installing a programmable thermostat. By making these improvements, the auditor estimated Budick and his family could save $500 a year on their energy bills -- a 25 percent savings.
"One of the big values of the home energy audit is pushing you to do stuff that you know you should have done," said Budick. "You have people come in and really explain in detail your issues. You really have no reason not to go ahead with [making the upgrades]."
With the home energy audit finished, Budick and his wife are in the process of getting quotes from certified home contractors and plan to make most, if not all, of the auditor's recommended improvements. Their goal is to reduce their energy use overall, but especially to ensure that by this summer, their daughter can play in her room during the day and sleep comfortably at night.