You are here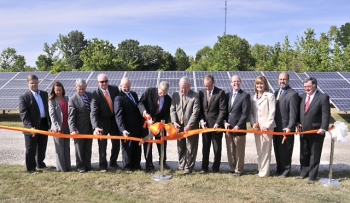 Deputy Secretary of Energy Daniel Poneman joins officials from Tennessee government agencies and the University of Tennessee at the official opening of the West Tennessee Solar Farm. | Energy Department photo.
The West Tennessee Solar Farm (WTSF) is now open for business!
Deputy Secretary of Energy Daniel Poneman attended the WTSF's ribbon cutting last week. At a capacity of five megawatts, the WTSF is the largest photovoltaic installation in the State of Tennessee and the seven-state Tennessee Valley Authority (TVA) region. Located off I-40 in Haywood County, the state of Tennessee reports that WTSF is projected to produce enough energy to power 500 homes and offset 250 tons of coal per month. With $31 million in Recovery Act funds from the Energy Department, the WTSF is the largest single funded project under the State Energy Program.
Over 100,000 hours of work were required to install 21,434 solar panels and connect the WTSF to the grid. Proceeds from the power sales will be used to operate, maintain, and expand the array, as well as fund education and demonstration related activities. The Tennessee Department of Transportation will soon begin construction on an Information and Welcome Center at the WTSF. The center, which will house an interactive educational display, is expected to be completed in 2013.
The WTSF is owned and operated by the University of Tennessee and is part of the Volunteer State Solar Initiative (VSSI), a comprehensive solar energy and economic development program focused on job creation, education, renewable power production and technology commercialization.
The VSSI includes the Tennessee Solar Institute, whose programs have expanded solar-energy usage, and contributed to the growth of Tennessee's solar industry by leveraging more than $40 million in private investments, with a total cumulative benefit to the state's economy in excess of $63 million.
In addition to energy savings, the solar farm will serve as an educational resource, as nearly 10 million vehicles a year will pass the WTSF as they travel along I-40 and educational tours of the farm are already being planned.