You are here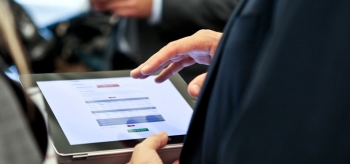 Applications powered by open energy data were on display at a previous Energy Datapalooza in June 2012. | Photo by Sarah Gerrity, Energy Department.
Editor's note: This article originally appeared on WhiteHouse.gov.
Today, the White House, the Energy Department and the General Services Administration are teaming up to host an Energy Datapalooza, highlighting important new steps in the public and private sectors to leverage data and innovation in ways that promote a clean energy economy in America.
Advances in technology are making it easier for consumers and businesses across the nation to better understand how they are using and saving energy. Empowering citizens with information about their energy usage can help them make smart choices that cut energy waste, cut down energy bills and preserve our environment.
The federal government has an important role to play in unleashing energy-related data and catalyzing innovation to support these savings. That is why the Obama Administration has taken unprecedented steps to make open government data more available to citizens, companies, and innovators -- including by launching both an Energy Data Initiative and a Climate Data Initiative.
In addition, in 2011, the Administration launched the Green Button Initiative to provide families and businesses with easy and secure access to their own energy-usage information. And today, the Obama Administration is announcing a number of new steps to continue this momentum, including: a successful federal pilot applying the Green Button to help building managers achieve greater efficiencies; and new or expanded data resources and tools in the areas of geothermal, solar, hydropower, bioenergy and buildings.
Private-sector entrepreneurs and innovators are important partners in this effort. They are continually finding new ways to use groundbreaking software and technologies to analyze data about energy usage, building efficiency, renewable energy sources and more, and providing those data to consumers in ways that help them achieve energy savings and help advance America's clean energy goals.
At today's Energy Datapalooza, companies, utilities and innovators who are leading the charge in this important domain are announcing new commitments to make energy data available to their customers, provide consumers and first-responders with information about power outages, publish data about open building energy performance, and more. These innovators -- and dozens more students, researchers and technologists -- will demonstrate exciting tools, apps, and services at a live Innovation Showcase, highlighting just some of the cutting-edge advances already underway in the energy data space.
The President has called for all hands on deck to advance America's clean energy economy. The commitments and innovations on display at today's event are evidence of the progress that can be made when creative minds from the public, private and academic sectors collaborate to leverage energy data and empower energy consumers.
We congratulate the participants in today's Energy Datapalooza and are eager see what innovations are over the horizon.
Read a White House fact sheet to learn more about innovative applications for energy data.