You are here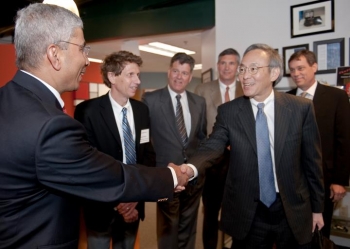 Green Launching Pad 2.0 awards ceremony with Secretary Chu, Gov. John Lynch, and UNH President Mark Huddleston held at EnerTrac, Inc., in Hudson, NH. | Courtesy of University of New Hampshire Photographic Services
As part of the Obama Administration's promise to help small businesses grow, hire and succeed, the Energy Department continues to invest in the small businesses that make up the backbone of our economy. This effort includes initiatives like the Office of Small and Disadvantaged Business Utilization, partnerships with the Small Business Administration, work with ARPA-E awardees, and Recovery Act efforts, to name a few.
One such Recovery Act project (funded by the State Energy Program) is helping new businesses grow while developing strategies to save energy. This commercialization partnership – known as the Green Launching Pad program -- is a joint effort by the New Hampshire Office of Energy and Planning and the University of New Hampshire. 
After a competitive selection process, Energy Secretary Steven Chu announced the entrepreneurs selected for the second round of Green Launching Pad along with New Hampshire Governor John Lynch and UNH President Mark Huddleston. The selected businesses receive assistance on marketing and business plan development as well as opportunities to attend seminars on topics such as Intellectual Property Rights and Venture Capital for clean energy business entrepreneurs. The seminars, which are open to the public as well, are provided by experts from the University and leaders throughout the state. 
Employment numbers for the recipients of the first round of small businesses selected for the program have more than doubled -- and are projected to continue to increase over the next year. 
First round participants:
Clean Green Heat
Air Power Analytics
Revolution Energy
Innovacene
EnerTrac
Second round participants:
SustainX
blue2green
Holase
New England Footwear
Therma-HEXX
Walker-Wellington
Participating business owners report that their companies have benefited from the positive exposure, networking, marketing and intellectual resources available. Employment numbers for second-round businesses have already increased by approximately 25 percent and are projected to double within the next year.
As the economy continues to recover and small businesses rebound, programs like the Green Launching Pad are helping revive communities across the country.