You are here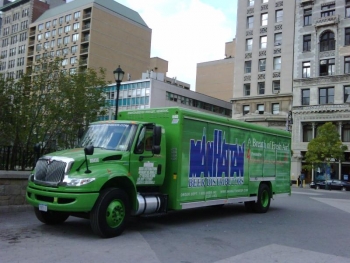 Manhattan Beer Distributors' first diesel-electric hybrid delivery vehicle | Photo Courtesy of Manhattan Beer Distributors
While green beer is usually limited to St. Patrick's Day, Manhattan Beer Distributors in New York City will now be able to deliver their product in a more sustainable way all year long. As part of a Recovery Act award to the New York State Energy Research and Development Authority (NYSERDA) through the Department's Clean Cities program, this beverage distributor was able to purchase its first diesel-electric hybrid delivery vehicle.
We spoke with Juan Corcino, Manhattan Beer Distributors' director of fleet operations, who estimates that the vehicle has an almost a 50% increase in its fuel economy. However, thanks to the stop-and-go nature of New York City traffic, the company estimates their drivers will see even greater improvements than advertised. Juan says the company plans to add another ten hybrids during 2011.
The hybrid truck is not the first effort by the company to increase its efficiency and reduce pollution. Years before most delivery fleets had even considered Compressed Natural Gas (CNG) powered trucks, Manhattan Beer Distributors had already begun to deploy them in large numbers. Beginning in 2002, the company started out with 15 CNG trucks and a fueling station at its Bronx location. Since then, the company has increased the number of CNG trucks on the road at both its Brooklyn and Long Island facilities. Currently it boasts 45 CNG trucks in its fleet.
Manhattan Beer Distributors was able to 'green' its delivery fleet with support from NYSERDA through the Recovery Act. In addition to reducing our oil dependence and pollution, these changes have allowed the company to try out new technologies and see what kind of investments they can make that will continue to save energy and money in the future.