You are here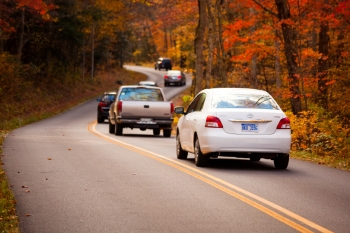 Save time and money on your next road trip with fueleconomy.gov's newest tool, My Trip Calculator. | Photo courtesy of iStockphoto.com/gioadventures.
For me, Thanksgiving brings to mind images of roasted turkey, hours in front of the TV watching football and parades with huge inflated balloons. But for many, Thanksgiving also means braving airports and roadways to visit family and friends.
This year, AAA forecasts 43.6 million Americans will travel 50 miles or more for the Thanksgiving holiday weekend -- making it one of the busiest travel weekends of the year. More than 90 percent of holiday travelers this year will be packing up the car and cruising on the highway. If you are one of the millions of people hitting the open road for the long holiday weekend -- or any time of year for that matter -- be sure to check out fueleconomy.gov's newest tool to save time and money on your trip.
A one-stop shop for any road trip, My Trip Calculator is an interactive tool that helps you plan your route, pick your car and estimate your fuel costs. To get started with the trip calculator, enter your start and final destinations for turn-by-turn directions, a trip map and estimated driving time. If you were hoping to take a more scenic route, just drag and drop additional pinpoints on the map to modify your directions.
The calculator allows you to compare fuel costs for up to three vehicles using fueleconomy.gov's database of all light-duty cars and trucks sold in the United States since model year 1984. Factoring in the percentage of time spent in city driving, the tool calculates how much you can expect to pay in gas costs based on each vehicle's EPA-estimated fuel economy, the national average fuel price and the estimated gallons of fuel you will use. All this information makes it easy to decide if you should take a sedan or coupe on your next trip.
The best feature of My Trip Calculator is the ability to customize fuel cost calculations for your trip. Enter your own miles per gallon (MPG) estimate rather than using EPA's to get a personalized calculation of amount of fuel you will use. You can also choose to use the national average fuel price -- which is updated on a weekly basis -- or customize the calculator with the amount you pay per gallon. With the help of My Trip Calculator you can estimate how much you will spend on fuel before you even leave your driveway.  
So this holiday season before you plan your road trip, be sure to take the new My Trip Calculator for a spin.