Across the country, students of all ages are heading back to school to continue building their skills in writing, math and science. While most schools don't offer a course dedicated to energy, it plays a vital role in nearly every aspect of our lives and is a key part of many scientific concepts. So whether you're a teacher, parent or student looking to learn more about energy topics, the Energy Department has you covered.
Trying to understand the basics of what energy is and how it works? The Energy Information Administration's Energy Explained is a great place to start. It covers everything from the different forms of energy and their measurements to energy sources and how we use them in the United States.
For hand-on activities that help bring energy topics to life, check out the Department's Energy Education site. Full of creative lesson plans, labs, projects and other energy-related activities for grades K-12, the site has a toolkit that makes learning about energy fun. You can also find an activity book with crosswords and energy facts and a coloring book on renewable energy -- both are easily printed right at home or school.
From our Joules of Wisdom series, highlighting the top things you didn't know about key energy topics, to deep dives into energy technologies as part of our How Energy Works feature, the Energy.gov team works to develop educational energy content for all age groups. We've got cool maps and graphics that visualize energy data (like this one that breaks down how much the average person spends on energy), and we're breaking down the history of energy technologies with interactive timelines (like the light bulb or nuclear power in space). Plus, we've shined a light on two of the greatest energy inventors, Thomas Edison and Nikola Tesla, and covered science on the cosmic frontier.
If you're a student (or teacher) researching career options, a job in the science, technology, engineering and math (called STEM for short) fields offer a host of opportunities -- from high-paying jobs to the ability to tackle some of our most pressing energy challenges. Our 10 Questions with a Scientist feature provides an inside look at what motivates scientists, while our Women @ Energy and #WomenInSTEM series put a spotlight on women in STEM professions as inspiration future scientists and engineers.
But students don't have to wait until after graduation to start gaining the skills necessary to meet their career goals. The Energy Department has a wealth of resources -- including internships, research programs and student competitions -- designed to provide students with real-world, hands-on experience necessary to become the next-generation of energy leaders.
For more energy education resources, visit Energy.gov.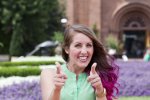 Rebecca Matulka
Served as a digital communications specialist for the Energy Department.Served as a digital communications specialist for the Energy Department.
more by this author