You are here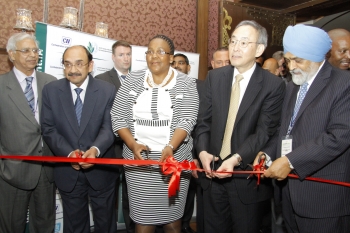 World energy leaders at the ribbon cutting for the CEM Innovation Showcase Pavilion, from L to R: Dr. Farooq Abdullah, Indian Minister of New & Renewable Energy; South African Energy Minister Dipuo Peters; U.S. Energy Secretary Steven Chu; Deputy Chairman of Indian Planning Commission Montek Singh Ahluwalia.
Lights, televisions and ceiling fans in India will be more energy-efficient, helping save money and cut pollution. A groundbreaking atlas is helping the United States and countries around the world assess their renewable energy potential. International experts are providing technical advice on clean energy policies to governments from Canada to South Africa. Hundreds of thousands of people in Africa are gaining access to dependable solar lanterns, transforming lives. Those are just a few of the many tangible results coming from initiatives launched under the Clean Energy Ministerial (CEM).  
 
During the fourth Clean Energy Ministerial held this week in Delhi, energy ministers from the world's major economies are considering how to build on these accomplishments -- including steps to reduce the costs of solar and wind, cut the energy needed to power appliances, factories and cars, advance the use of smart grid technologies and support innovative mentoring programs for women in clean energy. 
The Clean Energy Ministerial is a unique global forum. Launched just three years ago, the CEM is the only regular meeting where energy ministers meet exclusively to discuss how to accelerate the transition to clean energy technologies. Even though each of the 23 countries participating has unique national circumstances, they are finding important ways to work together in the transition to clean energy. Thirteen initiatives have been launched under the CEM, with different groups of governments participating in those efforts that interest them and that may have the highest impact for their citizens. In the three short years of the CEM's existence, standards or policies adopted or proposed through just one of the initiatives are expected to save enough energy to eliminate the need to build 650 mid-sized coal-fired power plants by 2030 -- and decrease carbon dioxide emissions by 11 billion metric tons over the next two decades.
 
Yet while much has been accomplished, much more must be done. The United States and countries around the world collectively face significant energy challenges. More than one billion people still have no access to electricity. Demand for energy continues to rise rapidly as do carbon emissions. The volatility in energy prices and markets continues. Economic challenges also persist. And the projected impacts from climate change are starting to be realized.
 
While the challenges are great, these are also times of great opportunity. The cost of wind and solar energy are dropping dramatically. Rapid advances are taking place in battery technology. Innovative solutions for managing energy are coming online. And we have only begun to tap the potential of energy efficiency.
 
During their meetings in New Delhi this week, energy leaders are exploring ways to use this unique forum to help accelerate the transition to global clean energy technologies -- providing families and businesses around the world with an affordable and sustainable energy future.
 
Check out the Clean Energy Ministerial website for more information and on Twitter, follow the hashtag #CEM4 for regular updates.