You are here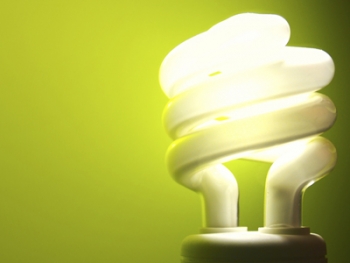 Longview, TX has established a program that enables residents to swap out four incandescent light bulbs for four CFLs. | Department of Energy Photo | Government Work |
Inefficient light bulbs can drive up electricity bills and drain homeowners' wallets.
With that in mind, government officials in the east Texas city of Longview established a light bulb swap program that is projected to save participating households $242.
"The light bulb swap program is a two-point project that will allow us to show citizens how energy efficient devices can save money while reducing the city's overall energy usage," says Shawn Raney, a safety specialist with the city of Longview who helped establish the program. "If every light bulb is installed, the electricity saved by them will reduce CO2 emissions by 12.9 million pounds, which is the equivalent of removing 1,126 cars from the city of Longview."
The program is funded by $18,710 from an Energy Efficiency and Conservation Grant (EECBG) that Longview received through the American Recovery and Reinvestment Act of 2009. It allows homeowners to swap up to four incandescent light bulbs for four CFLs at no cost. A household that installs four CFLs is projected to save $242 on electricity bills over the course of the bulbs' lifetimes, which is estimated to be around 10,000 hours.
CFLs are ENERGY STAR rated appliances that can run on one fourth the electricity that incandescent bulbs need.
According to Raney, residents were initially skeptical of the program. "They (the residents) didn't believe that the bulbs were free, and not enough people were coming to pick them up," says Raney.
To remedy the situation, Raney and other city officials arranged to have tents set-up at community events where residents could exchange their light bulbs without having to make a separate trip to city offices. According to Laura Hill, Longview's director of community service, the tents proved to be very popular and helped the program get off the ground.
"Longview has an area of 57 square miles, and when we set-up a tent outside the downtown library this past April, people drove in all the way from the edge of town just to exchange their light bulbs," says Hill. "That was indicative of the support for the program."
The city also partnered with the local Habitat for Humanity chapter to pass out light bulbs to individuals and families whose homes were built by the nonprofit's volunteers. Kelly Watson, executive director for Longview Habitat for Humanity says the program helps the organization educate new homeowners about ways to save electricity.
"Part of our program involves classes for the homeowners to take so they can learn to be responsible homeowners," says Watson. "This program is a great way to help teach the importance of energy efficiency and being a good steward of the environment."
Almost half of the light bulbs have been passed out, and city officials have scheduled light bulb swap tents to be set-up at more community events this autumn.