You are here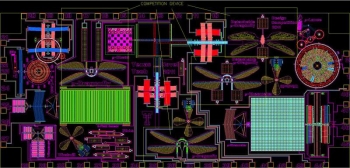 A computer simulation of the "dragonfly-inspired" device. | Courtesy of Sandia Laboratory
In Sandia National Laboratories' MEMS (microelectromechanical system) University Alliance design contest, a dust-sized dragonfly and a super sensitive microvalve took the prize.
The winners -- Texas Tech University for the novel insect and Carnegie Mellon University for the valve -- were announced recently. The nine-month long contest starts with students developing ideas for a extraordinarily tiny devices and creating an accurate computer model of a design that might work. Sandia's advanced fabrication facility then creates parts for each of the entrants. These parts undergo lengthy tests to determine whether the final product matches the original computer simulation.
The dragonfly-inspired device is smaller than traditional micro air machines -- about the width of five human hairs. It's aerodynamic lift and thrust are powered by flapping, when small intermittent electric currents cause thermal expansion and contraction in the wings. The Carnegie Mellon value uses only picojoules of energy to finely control tiny amount of liquid flow. This type of device may ultimately enable the creation of tiny microvalves for experiments in biological research laboratories and medical facilities.
Learn more about this innovative micro devices
here
.