You are here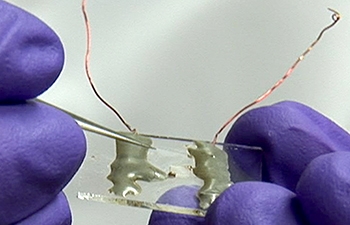 The sensor part of the device is about 2 millimeters in size | Courtesy of LLNL
Researchers from Lawrence Livermore National Laboratory and the University of Shanghai for Science and Technology have collaborated to develop first-generation battery-less chemical detectors. Traditionally, these detectors rely on an external power source. Through this alternative, the detector utilizes a nanosensor that relies on semiconductor nanowires.

The group tested the battery-less sensors with different types of platforms – zinc-oxide and silicon - using ethanol solvent as a testing and noticed there was a change in the electric voltage between the two ends of nanowires when a small amount of ethanol was placed on the detector.

Next steps for the team? They're working on testing the sensors with more complex molecules such as those from explosives and biological systems.

Read more on this first step to a more easily deployable chemical sensor>
---

This week, the Department of Energy's Environmental Molecular Sciences Laboratory (EMSL) hosted a workshop entitled "Communications at Critical Interfaces: How Scientists Plan to Collaborate in the Modern Era" where EMSL researchers interacted and brainstormed with international teams from LabTrove and oreChem and other experts in the field on developing new technical infrastructures that will allow more seamless team-based science.

Check out EMSL's own open source modeling software, NWChem>
---

In other battery news, National Renewable Energy Laboratory (NREL) and an industry-academic group led by the California Center for Sustainable Energy (CCSE) are teaming up to give batteries from electric vehicles a second life.

Researchers will deploy aged EV batteries at the University of California – San Diego's campus-wide electric power grid and assess the potential for second uses for lithium ion batteries including residential and commercial electric power management and power grid stabilization. Given the potential to extend the life of a battery beyond its utility in an electric vehicle, the team will also study the potential for lowering costs and other economic and environmental benefits.

Find out more about the NREL-CCSE partnership>