You are here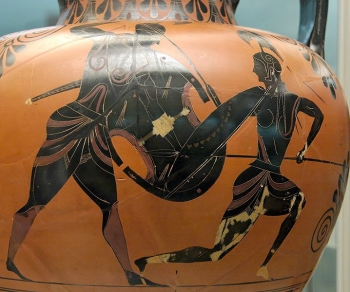 An Attic black-figured amphora, currently in the British Museum, of the type that will be studied at SLAC. | Photo by Marie-Lan Nguyen, Courtesy of SLAC National Accelerator Laboratory
Last week, Bonneville Power Administration dispatchers in the Dittmer Control Center celebrated a milestone – for the first time, wind generation on the BPA transmission system surpassed 3,000 megawatts, enough electricity to power a city three times the size of Seattle for an hour. Thirty-five wind farms contribute to generation right now, including more than 2,100 turbines primarily located east of the Columbia River Gorge.
Brian Silverstein, senior vice president for BPA Transmission Services, noted, "The wind resource connected to BPA's transmission grid is growing at an astonishing pace. Even at this growth rate, our concerted efforts to meet the challenges associated with this growth and wind's variability are working."
By 2013, BPA expects to have between 5,000 and 6,000 MW of generated wind power.
Read more about this new record and BPA's wind power initiatives here and here.
---
Since there are frequently – and many – differing surfaces on one sample, a variety of chemical reactions can occur on one material. Mehta explains such material is "hierarchically heterogeneous" – it displays different behaviors depending on the size scale. "There's a whole class of materials with structure at all different levels, and something happening at every level that's important." Take soil as an example. "Soil has large rocks, small rocks, porosities. Depending on the size of the soil particles, contamination in groundwater trickling through that soil moves at different rates, reacts at different rates and reacts with different materials." In order for scientists to understand what happens in total, they have to know what happens at all levels, on all surfaces.When thinking about science and innovation, the first thing to come to mind is probably not 2,500 year-old Greek pottery. So why has SLAC National Accelerator Laboratory partnered with the Aerospace Corporation and the Getty Conservation Institute to research Attic pottery? SLAC researcher Apurva Mehta explains that it's all about surfaces.
This brings us back to Attic pottery – which owes its striking black and red contrast to the behavior of iron compounds in the clay with the heat and oxygen as they were fired (in other words, surface chemistry). Alongside co-principal investigator Piero Pianetta, Mehta will use beam time on SSRL's Imaging Beamlines 2-3, 6-2 and 10-2 to characterize the surfaces of Attic pottery samples. Mehta and Pianetta will focus on developing an efficient methodology for collecting valid data from beamlines with different capabilities in order to share the methodology with other researchers for the study of topics of any interest – be it ancient artifacts to lithium ion batteries.
Find out more, here.