You are here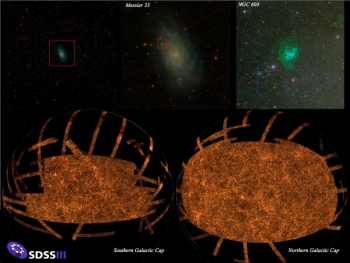 Top: SDSS-III view of a small part of the sky, centered on the galaxy Messier 33 and a zoom-in on M33, including the blue knots of intense star formation known as H II regions. Bottom: Maps of the northern and southern hemispheres of our Milky Way galaxy, derived from the SDSS-III image. The map shows clusters and walls of galaxies that are the largest structures in the entire universe. | Photo Courtesy of M. Blanton and SDSS-III
Welcome to the first Geek-Up[date] of the new year!
This week in the world of geek, astronomers and physicists from the third Sloan Digital Sky Survey collaboration (SDSS-III) revealed the largest color image of the sky – so big and so detailed that you would need 500,000 hi-def TVs to view it at its full resolution!
More than ten years ago, on September 19, 1998 – the SDSS imaging camera recorded its first quality science data. The camera, the largest digital camera in the world at the time, was a 138 megapixel imaging detector positioned on the back of a 2.5 meter telescope at Apache Point Observatory in New Mexico. Over the next decade, the camera took about 35,000 square degrees of images, covering a third of the sky.
Bob Nichol, a professor at the University of Portsmouth and spokesperson for the SDSS-III collaboration, noted, "This image is the culmination of decades of work by hundreds of people, and has already produced many incredible discoveries. Astronomy has a rich tradition of making all such data freely available to the public, and we hope everyone will enjoy it as much as we have."
Next steps for SDSS?
While the retired SDSS-III camera is now housed in a permanent Smithsonian collection, its legacy continues in new SDSS surveys. These surveys use spectra, an astronomical technique that can help create 3-D maps of galaxies.
Check out more on another map – the largest of the outer Galaxy – and new surveys including MARVELS and APOGEE here >
You can find the SDSS-III data release here >
---
Imagine a glass that's stronger than steel.
At Lawrence Berkeley National Lab and the California Institute of Technology, researchers have gone a step beyond that – they've created a new type of damage tolerant metallic glass that's proving to be tougher and stronger than any known material.
This metallic glass is a microalloy of palladium with phosphorous, silicon, germanium and silver. Given their non-crystalline and amorphous structure, glass materials are strong, but brittle. The added crystalline structure of metal can increase the plasticity of a material, thereby preventing cracks from spreading.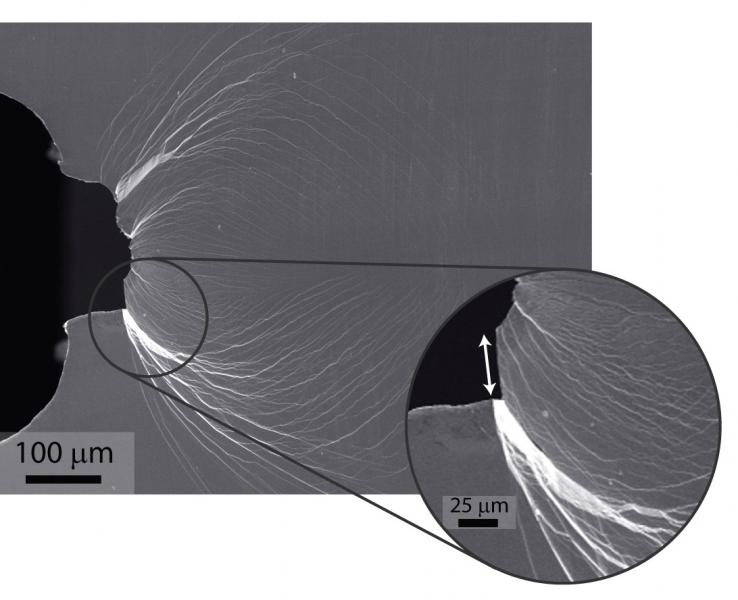 A micrograph of a deformed notch in the metallic glass showing the extension of plastic shielding from an initially sharp crack. Source: Robert Richie and Marios Demetriou
Robert Ritchie, who led the Berkeley contribution to this research, explained, "Traditionally strength and toughness have been mutually exclusive properties in materials, which makes these new metallic glasses so intellectually exciting. We're bucking the trend here and pushing the envelope of the damage tolerance that's accessible to a structural metal."
Read more on this super-strong glass here >
Niketa Kumar is a Public Affairs Specialist with the Office of Public Affairs