You are here
INL intern, Vanessa Gertman, shares her experiences in the CAVE
At Idaho National Laboratory, engineers are walking into the core of nuclear reactors and rappelling down cliffs, all without ever leaving the office. Using a new 3D computer-assisted virtual environment (aka CAVE), INL researchers are literally walking into their data. In the CAVE, engineers use 3D goggles and a handheld controller that allows them to manipulate the data. The system tracks the movement of the user's head and controller so that images react accordingly. For scientists studying the potential for carbon capture and sequestration, these images are so detailed that by acting as virtual cliff climbers they can examine flow paths and sediment deposits underneath the earth's surface, important clues to determining the success of carbon storage.
---
Science fiction fans are no strangers to a recent discovery out of Lawrence Berkeley National Lab. While the Terminator, the Borg and the Six Million Dollar Man are clearly products of fantasy, LBNL scientists have made a significant breakthrough towards actualizing these dreams.
Scientists at the lab's Molecular Foundry have designed an electrical link to living cells, which could allow cells to read and respond to electrical signals. Jay Groves, a faculty scientist at the lab, explained, "Cells have sophisticated ways of transferring electrons and electrical energy. However, just sticking an electrode into a cell is about as ineffective as sticking your finger into an electrical outlet when you are hungry. Instead, our strategy is based on tapping directly into the molecular electron transport chain used by cells to efficiently capture energy."
The researchers plan to use this pathway to efficiently transfer sunlight into electricity. They will introduce a stretch of DNA that contains the instructions for making an electron conduit into photosynthetic bacteria, essentially creating self-replicating solar batteries.
Read more on how LBNL made this breakthrough discovery here >
---
This month, nineteen newly-minted "Energy Execs" are celebrating their graduation from the National Renewable Energy Laboratory's Executive Energy Leadership program. The five-month leadership program equips participants with the tools to implement renewable energy projects for their businesses and communities.
Pueblo County Public Works Director Greg Severance, a 2009 Energy Exec, left the program with three renewable energy goals in mind: install up to 1 megawatt (MW) of solar panels on county buildings, perform energy audits and retrofits on all 26 county buildings and work with local utilities and communities to make Pueblo County the renewable energy and solar capital of Colorado. Through his leadership, county commissioners signed a 20-year power purchase agreement with Main Street Solar to install 750 kilowatts (KW) of solar on nine county facilities. Pueblo has also hired Johnson Controls to conduct energy audits for all 26 county buildings.
With two goals down and one more to go, Severance is working towards number three. Over the past year, the local school district announced plans to install a 1.2 MW solar project, the YMCA is installing 500 KW and the library will soon host a 42 KW system.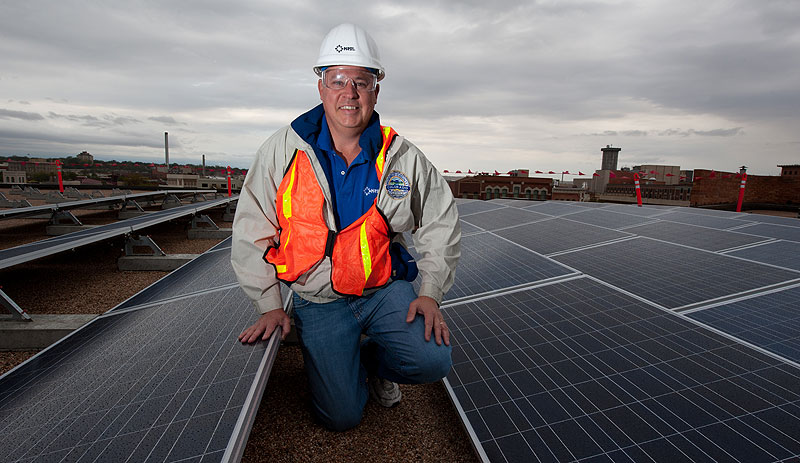 Greg Severance on the roof of Pueblo's Sangre de Cristo Arts and Conference Center.
Credit: Dennis Schroeder
Check out what other Energy Execs are working on across the country >
Niketa Kumar is a Public Affairs Specialist with the Office of Public Affairs