You are here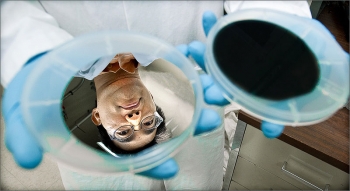 A silver wafer reflects the face of NREL research scientist Hao-Chih Yuan, before the wafer is washed with a mix of acids. The acids etch holes, absorbing light and turning the wafer black. | Photo Credit: Dennis Schroeder, NREL
The National Renewable Energy Laboratory has developed a new, low-cost etching technique that can put a trillion holes in a silicon wafer the size of a compact disk. These tiny holes make the silver-gray silicon almost pure black and able to absorb nearly all of the colors of light from the sun – a breakthrough that will likely lead to cheaper and more effective solar cells.
The highly absorbent black silicon can be made in about three minutes at room temperature, or in about one minute at 100 degrees Fahrenheit.
See how NREL cooked up these innovative silicon wafers >
---
At Bonneville Power Administration (BPA), real-time power traders are on the job 24/7 working to balance hour-to-hour changes in electricity loads with the power produced by the Northwest's 10 largest federal dams. While the common investor's creed is to buy when the price is low and sell when it's high, for BPA real-time power traders, the old adage takes on a special meaning. In most cases, they buy when the runoff in the Columbia River Basin is low and sell when it's high. This summer, when record-breaking downpours flooded rivers in the Northwest and threatened to spill too much water over the dams, BPA real-time traders cut deals with utilities and marketers throughout the region to keep the systems running smoothly and meeting consumer demands.
Rob Johnson, a real-time trading manager at BPA, explains: "We make educated guesses about which direction the load is going, when it turns out the load doesn't match the generation, we change our operations to cover the difference. We buy power to decrease the system load or sell to increase it. Or, the hydro operator can increase or decrease generation at the dams."
Learn how BPA's real-time traders can move $1 million worth of electricity in a single shift >
---
Atmospheric and computational scientists at Argonne National Laboratory are exploring how "petascale" and "exascale" supercomputers (capable of doing quadrillions and eventually quintillions of calculations per second) can revolutionize climate science and modeling.
According to Rick Stevens, who leads Argonne's work in computing, the environment and life sciences. "The potential of these computers to improve our understanding of climate and humanity's role in shaping it is virtually unlimited."
Find out how Argonne is connecting the dots across physical, biological, chemical and anthropogenic processes >