You are here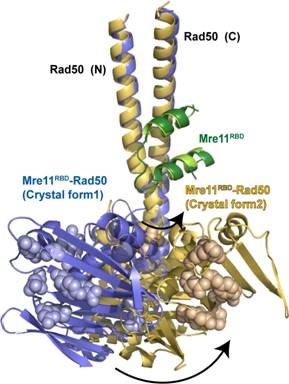 Two structures of the Mre11-Rad50 complex were solved independently and overlaid, further revealing a flexible hinge in Rad50 near the Mre11 binding site | Courtesy of Lawrence Berkeley National Laboratory
Scientists from Lawrence Berkeley National Laboratory (LBNL) and the Scripps Research Institute have made a discovery that could lead to new ways to fight cancer and other diseases such as cystic fibrosis.
Using the Advanced Light Source, a synchrotron located at Berkeley Lab, researchers determined that a cell's speedy ability to repair damaged DNA relies on the remarkable flexibility of a molecular motor. This insight will help scientists better understand how the repair mechanism fends off cancer in healthy people, and how it aids cancer cells in resisting chemotherapy. The latter could enable scientists to develop more effective cancer therapies with fewer side effects.
With the synchrotron, the LBNL and Scripps scientists were able to determine the precise location where two components of a DNA repair machine called MRN (aka Mre11-Rad50-Nbs1) attached to one another.