You are here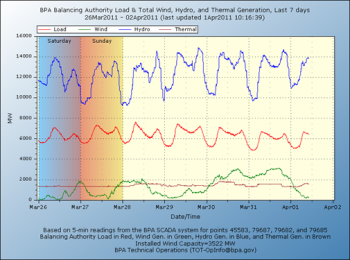 A screengrab of a Bonneville Power Administration chart of output of all wind, thermal and hydro generation. | Courtesy of BPA
Check out Bonneville Power Administration's new near real-time energy monitoring – it displays the output of all wind, thermal and hydro generation in the agency's balancing authority against its load. Updated every five minutes, it's a great resource for universities, research laboratories and other utilities.
Electric engineer Bart McManus explained why, saying, "About three years ago, wind generation was increasing enough that people started talking about the issues involved in integrating it. Researchers at universities and laboratories were eager to begin conducting analyses, but they lacked data, People wanted to know what the issues were. They'd ask, 'What are you really seeing?'"
The result: a data gold mine of 19 charts and tables that combines near real-time data with data going back to 2007 and a graph that displays the current BPA balancing authority load and total generation.