You are here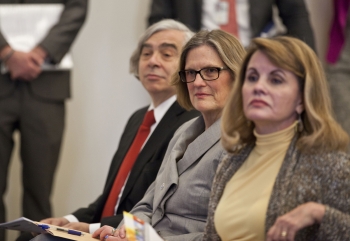 Secretary Moniz sits with Under Secretary of Commerce for Oceans & Atmosphere and NOAA Administrator Dr. Kathy Sullivan (center) and Energy Department Senior Advisor Melanie Kenderdine (right) at the White House Leadership Summit on Women, Climate and Energy. | Photo by Sarah Gerrity, Department of Energy.
C3E -- the Clean Energy Education and Empowerment Initiative -- was created as a way to both recognize women already doing amazing work in clean energy fields and to encourage other women to help advance clean energy research and development. Now in the fifth year of its U.S. program, the U.S. C3E's annual Women in Clean Energy Symposium is coming up on May 31 at Stanford University.
We sat down with Secretary Moniz to talk about why C3E is important to him.
You have been involved in the U.S. C3E program since its inception. Why is it important to you that we have an initiative dedicated to increasing participation of and honoring women in clean energy fields?
I had the great pleasure of being involved in the initial implementation of the C3E program along with Melanie Kenderdine, Director of the Energy Department's Office of Energy Policy and Systems Analysis (EPSA). C3E is a partnership between the Department of Energy and MIT, where I, of course, spent many years in my previous life.
We thought this initiative, which grew out of Clean Energy Ministerial (CEM), was an excellent way to be more inclusive in addressing critical clean energy challenges.
How have you seen C3E grown in the last five years? Where do you hope it will go in the next five?
Clearly the reality is that in many of the STEM fields, we still have not reached the level of participation of women that we would like, and that we need -- which is why advancing this initiative meant so much to us. And the response across the country was a great reward to us in seeing the enthusiasm -- particularly the network that women in the energy field had the chance to advance dramatically. This has happened considerably in these five years.
We have a terrific cadre of ambassadors. They're not all women, but they're mostly women, and they come from many different disciplines and areas of work -- from work in developing countries, to investors to those who have invented new technologies as solutions. We've grown that with awards and wonderful recognition of women for lifetime achievement in this area. Women who have been mentors and role models.
One in particular from MIT is Millie Dresselhaus, who formerly served at the Energy Department as Director of the Office of Science and has had a fabulous career in both research and mentoring and in advancing women in this field. And more recently -- and also an alumnus of the Energy Department -- a dear colleague, Maxine Savtiz, who was my co-chair in leading a President's Council of Advisors on Science and Technology study on accelerating the clean energy revolution. Maxine served at the Energy Department back in the 1970s in the Office of Energy Efficiency and Renewable Energy (EERE) and again has had a tremendous career in government, in industry, and in the kinds of activities like National Academy reports that have helped guide our progress.
Why are you making it a priority to engage the international community and world leaders in C3E?
A very exciting development in my view has been the increasing participation in the international arena. We've had an energy minister from South Africa as part of our programs. And now, at our fifth anniversary, we'll be emphasizing this much more at our Clean Energy Ministerial (CEM).
I might add that when Abu Dhabi hosted the CEM, they played an important role, and we are pleased to see their participation in the C3E event we are holding at Stanford this year. It's the same motivation as we've seen domestically. We need all of our talents brought to bear on this issue. We need that internationally. Certainly, climate change is a global problem. But so is the question of bringing energy services to those that don't have them. We know we have over a billion people with no electricity in the world, and for reasons of collective good like climate, while meeting our moral obligations to help raise the quality of their lives, this international endeavor is absolutely critical.
What would you say to young women looking to enter clean energy and STEM fields?
For young women, particularly women in the STEM field, I would say getting into clean energy is a tremendous opportunity for personal satisfaction, in addition to solving critical problems that we face. But climate challenge is not a one year challenge or a one decade challenge. It's going to be many, many decades with increasing ambitions and increasing innovation required.
I do want to emphasize the innovation we need will draw on all disciplines. Because it's technology innovation, but it's also policy and political innovation, and it's business world innovation -- the new technologies will demand new business models for producing and delivering energy to the world's population. It's pretty clear that the road from Paris will include development of a global clean energy market and the trillion dollar goal. So again, it's a tremendous opportunity and also a huge need for our society and the global society.