You are here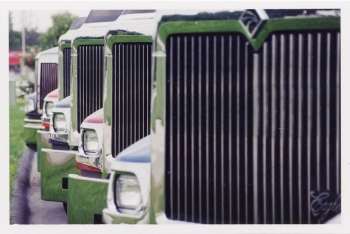 Pure Power, LLC makes products that allow truck engines to reduce emissions and improve fuel economy. The company has increased their energy efficiency and hired new employees. | Photo courtesy of Flickr user ClatieK.
Globally, the clean energy industry generates hundreds of billions of dollars in economic activity. Here in the United States, this means tremendous opportunities for clean energy technologies – from the research, development, manufacturing, and deployment stages of clean energy.
As part of a national commitment to supporting energy efficient technologies, the Energy Department invests in American companies that will continue to grow as this economy rebounds. One such company, located in South Carolina, is steering the Palmetto State toward the next generation of clean engine control and emissions management solutions.
Through the Department's State Energy Program (SEP), Pure Power Technologies, LLC, a Navistar company, used Recovery Act funding to increase energy efficiency while expanding plant operation and developing products that allow truck engines to reduce emissions and improve fuel economy. The company estimates a 50 percent energy savings and an annual cost savings of more than $26,000. As a result of the facility expansion, Pure Power has increased from 170 employees to 470.
The South Carolina Energy Office distributed their SEP grant to Richland County through the "Clean Green Investment Incentives" program. The purpose of this program is to provide incentives to new or expanding industries with the goal of increasing energy efficiency and encouraging the use of cost-effective renewable energy.
The project includes installation of new high bay fluorescent lighting fixtures within the plant production floor area, high efficiency lamps, lighting controls, motion controls and infrared sensors. Pure Power Technologies, LLC, which now pilots a large truck that can run on either diesel or natural gas, received an Innovators Award from the Southern Growth Policies Board. Not only have they developed these emissions-reducing and fuel-efficiency products, they have also succeeded in bringing the manufacturing of some of the components back to the United States.