You are here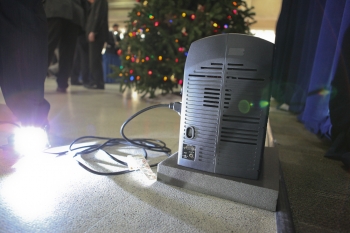 A clean, efficient fuel cell powered the tree lights at the 2011 Energy Department holiday party. | Energy Department file photo.
Employees at the Energy Department's annual holiday party were greeted with many familiar sights – festive decorations, sugar cookies, and a tree in sparkling lights.  In addition to the traditional holiday fare, guests were presented with something new. For the first time ever, the lights used to decorate the holiday tree were powered by a clean, efficient fuel cell.
Fuel cells produce clean electricity from a number of domestic fuels, including renewables, natural gas, and hydrogen, and can provide power for virtually any application—from cars and buses to holiday lights. Fuel cells work like batteries, but they do not run down or need recharging. They produce electricity and heat as long as fuel is supplied.
The portable fuel cell used at this year's holiday party is made by Trulite.  The fuel cell generates about 150 watts of power—making it ideal for recharging laptops, cell phones, and other everyday appliances.
 
Continued widespread use of hydrogen and fuel cells could play a substantial role in overcoming our nation's key energy challenges—including reducing greenhouse gas emissions and oil consumption as well as improving air quality. Energy Department funding has led to over 300 U.S. hydrogen and fuel cell patents and directly contributed to bringing over 30 commercial technologies to the market place.  
 
Incorporating clean, renewable technologies into time-honored traditions right at the Energy Department's headquarters is something that resonates with employees. "It's great to see fuel cells used in a more domestic setting that people can relate to," said Kristen Abkemeier.  Shannon Shea, another holiday party attendee, added, "It's one of the ways DOE is walking the walk."