You are here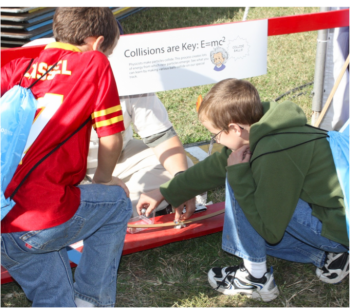 Students experiment with steel balls on a track as they learn about energy exchange during collisions during the USA Science and Engineering Festival held on the National Mall October 23-24.
I was delighted that the first ever USA Science and Engineering Festival on the National Mall Oct. 23-24 proved to be a fun-filled weekend event for children and adults alike. With over 1,500 exhibits and 75 stage shows, presenting everything from robots and explosions to 3D videos and conversations with Bill Nye the Science Guy, the event was an interactive learning experience for all in attendance.
The excitement in the eyes of the children spoke for itself in response to President Obama's desire to spark their scientific curiosity. A mother of two described her day with her children: "They made amino acids, got finger printed, played robot soccer... a lot of hands-on experiences, which has been really good for the kids."
It was great to see the innovative work of Department of Energy and our National Laboratories on display at the Festival. I was also excited to see so many future scientists being inspired by our exhibits and others around the Mall. Almost every student I've known who became a professional scientist did so thanks to the influence of two or three outstanding teachers or mentors. I saw that at work this weekend – students becoming inspired, and meeting individuals who could direct them toward a career full of promise.
Many children who came by the Department of Energy booths enjoyed riding the Argonne National Laboratory's energy bike. A wheel of the stationary bike propelled a small motor, which was hooked up to a board of light bulbs so that a rider could see how much electric power he or she was manually generating.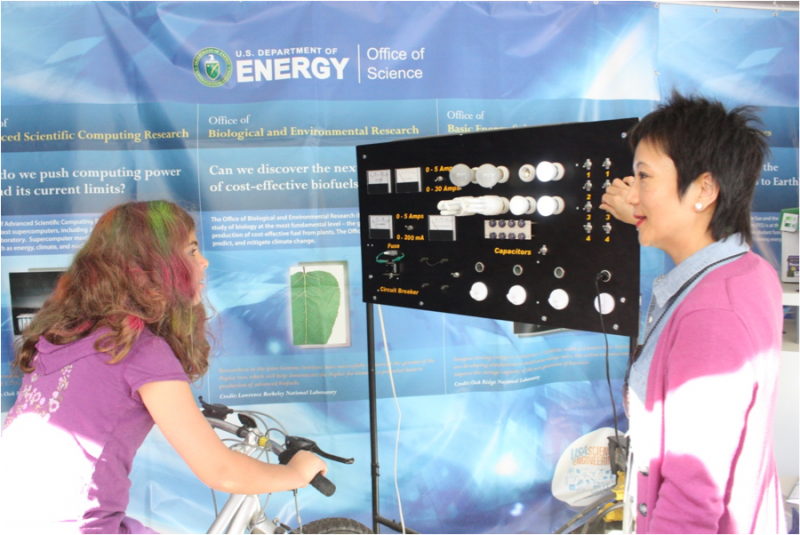 One of our visitors rides the energy bike, generating electric current with her manpower.
Parents and teachers enjoyed many activities with their children and students, and there was plenty for the adults to learn from the more technical exhibits as well. Some stopped by Brookhaven National Laboratory's booth to learn about the operation of magnetically levitated trains, which can travel up to 300 miles per hour without any emission of greenhouse gases.
Others enjoyed the National Renewable Energy Laboratory's presentation of more alternate energy sources. They discussed their developments with wind and solar energy technology. Currently, 75% of the solar energy market produces flat panels which can be used on roofs. There are also solar back-packs being constructed, allowing solar energy to be transportable. Those who came to the Joint BioEnergy Institute's booth learned about the research behind the production of biofuels, a renewable energy source made by decomposing plants. Other visitors enjoyed a 3D virtual ride on a beam of light as it raced through an exhibit of world's largest laser system at the National Ignition Facility (NIF), which is operated by Lawrence Livermore National Laboratory.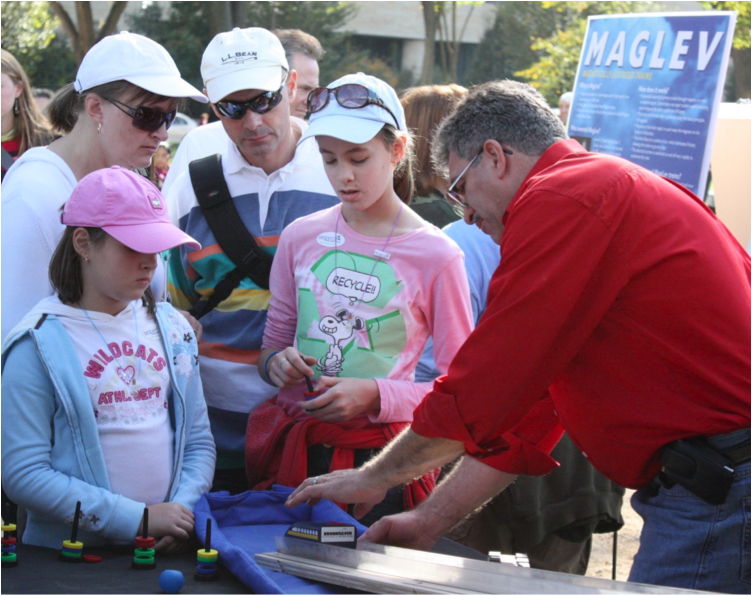 A scientist from Brookhaven National Laboratory uses a model train track to demonstrate how levitating trains work.
While the Department of Energy and the Office of Science played a significant role, this event at large involved nationwide collaboration, and it was a great success. Attendance exceeded our expectations, a sign that interest in science education is on the rise. With souvenirs, knowledge and ideas to bring home, everyone left the festival feeling like a true scientist.