You are here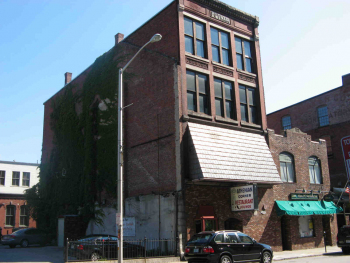 Energy efficiency upgrades helped the Athenian Corner reduce its operating costs and improved the restaurant's bottom line. | Photo courtesy of BetterBuildings Lowell Energy Upgrade program.
Opened in 1974 by Stavros Panagiotopoulos, the Athenian Corner has been a mainstay in the historic district of downtown Lowell, Massachusetts, for almost 40 years. When high energy bills and a dwindling customer base threatened the restaurant's well-being a few years ago, the Panagiotopoulos family worked with the BetterBuildings Lowell Energy Upgrade program (BLEU) to make energy efficiency upgrades that are helping reduce operating costs and improve the restaurant's bottom line.
"It was the perfect case where need met opportunity," said Ted Panagiotopoulos, who works with his father and sister at the Athenian Corner. "We were having problems with both our heating and cooling systems -- they were unbelievably inefficient and weren't really working -- and BetterBuildings Lowell was offering generous financing options for energy efficiency upgrades."
During summer 2011, BLEU -- a partner of the Energy Department's Better Buildings Neighborhood Program -- offered a special funding opportunity to encourage local businesses to make deep energy-saving upgrades. To take advantage of this offer, the Panagiotopoulos family had an energy assessment of the Athenian Corner. Based on the projected energy savings, they qualified for a $47,500 BLEU grant and $27,500 loan from the local lending consortium. Using that money -- plus $7,500 of their own -- they installed a new boiler, air conditioning and heating system, control for the exhaust fan, lighting fixtures and an efficient refrigerator storage cabinet.
More than a year and a half since they made the upgrades, the Panagiotopoulos family continues to be surprised at how much they are saving on the Athenian Corner's energy bills. During the first year, the upgrades helped reduce the restaurant's energy use by 41 percent or almost $4,000 -- far exceeding the projected savings of 30 percent. Thanks in part to educating their staff on the restaurant's new temperature controls, the Panagiotopoulos family has been able to increase their energy savings to 51 percent during the second winter since making the upgrades.
The Panagiotopoulos family is putting those energy savings to good use. In September, the Athenian Corner became the first certified green restaurant in Lowell. To qualify, they made additional energy-efficiency upgrades, such as managing water use and installing outdoor lighting that operates on a solar sensor. Without the energy savings, the Panagiotopoulos family might not have had the money to make those additional changes necessary to become green certified.
The first people to notice the upgrades were the Athenian Corner's regulars. With a more consistent temperature during extreme weather months, the Athenian Corner's business is drawing in more diners. To accommodate the increase in customers, the Athenian Corner has hired additional wait staff, helping grow the local economy.
"With the sluggish economy the last five years and small businesses struggling, there was no way we were going to be able to finance the heating and cooling upgrades by ourselves," said Ted. "The Better Buildings program has made sure the Athenian Corner can be a viable business going in the future."