Trucks and cows may not seem like a natural match, but a dairy farm in Indiana has found an innovative way to combine two of its biggest resources. With the support of the Energy Department and one of the three new National Clean Fleets Partners announced this week, Fair Oaks Farms ships its products to destinations ranging from the Great Lakes to the Gulf of Mexico using a fleet of trucks running on renewable natural gas.
Aiming to reduce fuel costs and truck emissions, Fair Oaks Farms and AMP Americas -- a transportation logistics company that operates the vehicles for Fair Oaks -- partnered with the Greater Indiana Clean Cities coalition to limit their use of diesel fuel in shipping. AMP Americas received funding for a natural gas fueling station -- the best solution for AMP Americas and Fair Oaks transportation needs -- as part of Indiana's $10.1 million American Recovery and Reinvestment Act project to increase alternative fuel use in the state. In total, the State of Indiana's project, which is one of 25 Clean Cities Recovery Act projects, will install more than 120 alternative fuel stations across the state and put more than 350 alternative fuel and advanced technology vehicles on the road.
AMP Americas built upon the support it received through the Recovery Act. In 2011, AMP Americas made the investment to convert the entire fleet of 42 semi-tractors it runs for Fair Oaks Farms to compressed natural gas, making it one of the largest fleets of Class 8 natural gas trucks in the country. By making the switch to natural gas, these trucks have already displaced more than 1.8 million gallons of diesel fuel.
Recently, Fair Oaks and AMP Americas further expanded their efforts to increase their environmental sustainability. On March 4, representatives from the Energy Department's Clean Cities initiative, the Indiana Office of Energy Development and the Indiana Governor's Office were on hand to celebrate the ribbon cutting of the companies' new anaerobic digester -- equipment that processes the dairy's agriculture waste to create renewable natural gas.
Normally, methane in the agricultural waste releases into the atmosphere, where it is 21 times more powerful than carbon dioxide at trapping heat and contributing to climate change. This refining process minimizes the methane lost to the atmosphere, while also reducing the greenhouse gas emissions from the trucks. In fact, heavy-duty trucks running on renewable natural gas produce 80 percent fewer lifecycle greenhouse gas emissions than comparable trucks that run on diesel.
Innovative projects like this one show how it is possible for companies to save money, reduce oil consumption and decrease pollution all at the same time.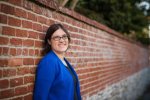 Shannon Brescher Shea
Shannon Brescher Shea (shannon.shea@science.doe.gov) is the social media manager and senior writer/editor in the Office of Science's Office of Communication and Public Affairs.
more by this author