You are here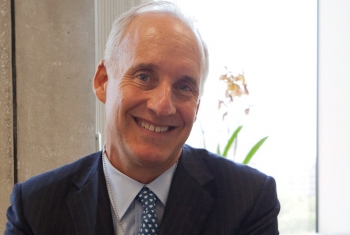 Richard Kauffman has recently joined the Energy Department as a Senior Advisor and is one of the country's leading experts on private sector investment in clean energy. Photo Credit: Quentin Kruger, Department of Energy
It was 1973 and the oil crisis was looming large for the American people. Gasoline supply was low and prices were high. People waited in long lines at the pump and a young Richard Kauffman was no exception.
"I spent part of my fall term waiting at the gas station," Kauffman, now a senior advisor at the Department, said of his time at Stanford University. "While the gas lines were actually caused by regulatory and market structure issues, some were speculating that we were running out of oil, and that there would be increasing competition over resources between developed and developing countries. That sparked my interest in international relations and energy."
After graduating with degrees in international relations and management, Kauffman went on to accept a series of high-profile positions that fashioned him into one of the country's leading experts on private sector investment in clean energy.
Before joining the Department, Kauffman was the Chief Executive Officer of Good Energies, Inc., a global investor in renewable energy and energy efficiency technologies.
Prior to that, he was a managing director and chaired the Global Financing Group at Goldman Sachs. He previously served as vice chairman of Morgan Stanley's Institutional Securities business and co-head of its Banking Department.
He also served as chairman of the board of Levi Strauss & Co., which has a robust sustainability program that focuses on a wide range of issues – from decreasing the amount of energy used to make jeans to educating consumers about saving water by washing their jeans less frequently.
Kauffman is particularly excited to apply the skills he has learned, both in finance and as an investor, to his work at the Department.
"I'm looking forward to working with the business community to break down the financing obstacles that can stand in the way of the deployment of renewable energy and energy efficiency," he said.
The job at the Department is also his first in the public sector – a fact that humbles Kauffman: "For me this is my opportunity to serve. My hope is that I will bring capabilities and experience that are complementary to the great talent that is already here."