You are here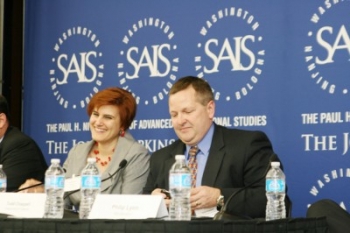 Joyce Connery participates in a recent a career day event sponsored by the Boren Forum at the Johns Hopkins University School of Advanced International Studies, encouraging new graduates to consider a rewarding in public service. Photo credit: Dan Pan, The Boren Forum
She helped organize an international nuclear security conference in 2010 that drew 47 heads of state – the largest gathering of leaders on U.S. soil since the 1946 meeting that established the United Nations – and is now nominated for a prestigious Service to America Medal award. Yet, Joyce Connery is decidedly humble.
"I've been very fortunate to have amazing support from Department leadership in the ten plus years that I've worked here," said Connery, a current Energy Department employee who is detailed to the National Security Council. "I had fantastic bosses who drove me to do bigger and better things and allowed me to represent the DOE in these meetings around the world."
She's had quite a few bosses over the years, filling positions across the National Nuclear Security Administration (NNSA) and the Energy Department, dealing with issues ranging from export controls to non-proliferation, nuclear safety and nuclear security. Connery said she's been lucky to have supportive leadership and colleagues in all of her roles, noting that when she was diagnosed with breast cancer in 2006 her coworkers drove her to her doctor's appointments and helped her raise an estimated $150,000 over the past six years through participation in the annual Avon Breast Cancer walk. 
She was nominated for her latest accolade – a Service to America Medal given by the Partnership for Public Service – by Deputy Secretary Daniel Poneman, while Administrator Tom D'Agostino and his team put together the nomination package.
The Service to America Medal awards, nicknamed the "Sammie's," recognize federal employees who have made significant contributions to the nation. Connery was nominated for the non-profits' National Security and International Affairs Medal. 
Her contribution came after a call to action issued by President Barack Obama during a pivotal speech on nuclear security in 2009 in Prague. In that speech, the President not only laid out his goals for securing vulnerable nuclear materials around the world but announced a forthcoming nuclear security summit.
The formidable job of coordinating the international summit and setting its agenda fell to Connery – a job she is glad she took on.
"The summit was the highlight of my career because it was the culmination of all my work at DOE," Connery said. "And I'm proud of it because 90 percent of the commitments made by other countries to secure their nuclear material have been fulfilled — much of the real work being done by my colleagues here at DOE/NNSA."