You are here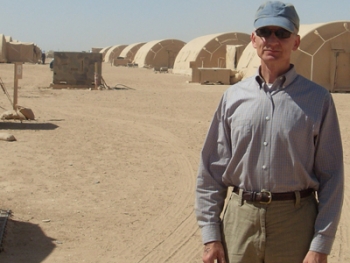 Dr. John Barnett consulted for the military on saving energy in theater. | Photo courtesy NREL
As an early adopter of cutting-edge technologies, the United States military is pioneering energy efficiency and renewable energy technologies in the field. Recently, the Commandant of the United States Marine Corps sent a team to visit bases and camps in Afghanistan to assess and make recommendations on the supply and use of energy and water. If implemented, the findings will reduce demand for resources at military camps in strategically important areas of the country, translating to fewer trucks in convoys. This could save money and — more importantly — lives.
In a first-of-its-kind opportunity, John Barnett of the National Renewable Energy Laboratory represented a U.S. Department of Energy national laboratory on a military-led team working in a war zone, helping to solve operational problems with his expertise in energy efficiency and renewables. John was part of a team that included one other civilian and four active-duty Marines.
"I had a great feeling the entire trip that it was a valuable mission, and that it was a privilege to be on the team. I was the only member of the team who had never been in a war zone, and the Marines really looked out for me," John says. "As the trip progressed, I saw how DOE lab expertise could contribute to enhancing expeditionary self-sufficiency and help solve other tactical energy challenges," he said, adding that increased use of on-site resources bolsters Marines' freedom of action.
The team began by gathering at Central Command Headquarters in Tampa, Fla., at the end of August 2009 and returned Sept. 21 after completing their mission in Afghanistan. While in Afghanistan, the team of energy experts, led by Col. T.C. Moore, made observations at expeditionary camps in Helmand Province to support recommendations for more efficient energy use, and for ways of providing power and water that rely on local resources rather than risky and expensive ground and air transportation.
Currently in southern Afghanistan, convoys transport fuel, water, and other supplies to forward operating bases. Reducing the fuel and water demand at the bases would in turn contribute to decreasing the number of convoy vehicles, as well as the fuel and force protection requirements of convoys themselves.
The team identified a number of near-term energy efficiency improvements for forward operating bases — including improved insulation and generator load management — which could collectively save half of the diesel fuel used to generate electricity. These efficiency measures alone may translate to eliminating as many as two vehicles from every 10 in a typical supply convoy. Further, the team believes the Marines can eliminate the use of bottled water in the field by drilling wells on-site.
"All the sites we visited had the capability for wells, and there are water purification systems available that would allow Marines to put the water straight into their drinking systems," John says.
Beyond immediate savings, the team has longer-term ideas that include regulating climate control settings, deploying solar panels, using solar-thermal water heating, burning refuse to generate electricity and looking at the feasibility of installing wind turbines in mountainous outposts in Afghanistan. John says it could even be possible to use solar ovens for some food preparation. He says the report seems to resonate with key Marine leadership, especially the Commandant.
"The actions we've proposed would make the Marines more self-sufficient at the tactical edge, reducing risks to life and property by lowering the supply logistics requirements," John says. "The Commandant is a very strong supporter of energy efficiency and renewable energy, and he wants to gain the benefits of those technologies."
Col. Moore says the Commandant of the Marine Corps has issued an initiative to establish an experimental forward operating base in Quantico, Va., to develop and test the possible solutions recommended by the energy assessment team with the goal of rapidly fielding the technologies in-theater.
Dr. John Barnett leads the Project Development and Finance team and is Deputy Manager for the International Program at the National Renewable Energy Laboratory, a Colorado-based national lab of the U.S. Department of Energy. His work with the Marine Corps' Afghanistan energy assessment team was supported by DOE's Federal Energy Management Program in the Office of Energy Efficiency and Renewable Energy.