You are here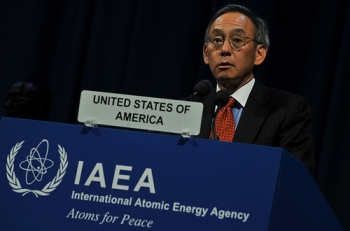 Secretary Chu speaks at the International Atomic Energy Agency's 54th General Conference in Vienna.
Last week, Secretary Chu wrote an Op-Ed on the key challenges faced by the international community as we seek the security of a world without nuclear weapons while working to encourage the peaceful use of nuclear power. Yesterday, he took his case to the International Atomic Energy Agency's 54th General Conference in Vienna, relaying some thoughts directly from President Obama and expanding on four key areas of his vision.
The Secretary began his address with a very straight forward set of remarks from the President. President Obama summarized the primary purpose behind this gathering by saying:
"No nation has a monopoly on nuclear power, and no nation alone can manage its inherent risks. This is a challenge we face together. Working cooperatively through international institutions and with a shared sense of commitment and obligation, we can succeed in building a safer future, one in which the barriers to proliferation are high and the obstacles to nuclear energy are low."
Secretary Chu centered his remarks around what he believes to be the four key challenges to achieving that vision: promoting the peaceful use of nuclear energy, strengthening nonproliferation and international safeguards, advancing disarmament, and keeping nuclear material out of the hands of terrorists.
Promoting the Peaceful Use of Nuclear Energy
"A strong and efficient market for nuclear fuel is vital to securing carbon-free energy on a global basis. The United States continues to support expanded and reliable access to fuel supplies – working through the commercial marketplace – for peaceful nuclear programs. Providing assurances for nuclear fuel allows countries to have more confidence in the international fuel markets. Specifically, an assurance of the availability of fuel through IAEA mechanisms will empower governments to exercise their Article IV rights to the peaceful use of nuclear energy. A number of initiatives have already been undertaken and we applaud the positive decision the IAEA has reached on the fuel bank at Angarsk. The United States has down-blended 17.4 metric tons of highly enriched uranium into low enriched uranium to be held in reserve to support a fuel assurance mechanism."
"It is now time to move beyond general discussion and debate of fuel bank principles. The United States, therefore, intends to work with other Member States to develop a common approach and seek adoption of a resolution approving an IAEA-administered fuel bank at the December Board of Governors meeting." 
Strengthening Nonproliferation and International Safeguards
"For countries that do not adhere to their safeguards commitments there must be real and timely consequences. We support the IAEA in its efforts to resolve outstanding concerns related to the nuclear programs in Iran and Syria and we encourage the Agency to make full use of existing authorities. North Korea also continues to present a challenge to nonproliferation efforts and needs to comply with international obligations."
"The U.S. has already taken action. The Obama Administration has levied sanctions against those trading with Iran, including the European-Iranian Trade Bank, effectively preventing the bank from operating in the US financial system. We also applaud Canada, Australia, South Korea and the United Arab Emirates for taking similar steps to prevent foreign capital from funding enrichment efforts. We will continue to pressure the Iranian government to fulfill its international commitments."
Progress on Disarmament
"In his April 2009 speech in Prague, President Obama declared that the United States will 'seek the peace and security of a world without nuclear weapons.' The United States is reducing the role and numbers of our nuclear weapons, extending a security assurance towards nations that are in compliance with the NPT and their nuclear nonproliferation obligations.
This April, the United States and Russia signed a landmark New START Treaty that reduces our deployed nuclear warheads by one-third and our strategic delivery vehicles by one-half, while establishing a comprehensive monitoring regime and a pathway to further reductions in the future. We are working now to assure its ratification." 
Nuclear Security
"Although it is ultimately the responsibility of each country to improve its own security, material accounting, and physical protection measures, we welcome IAEA activities in support of national efforts. We are particularly pleased with the IAEA's work to facilitate the Member State revision of IAEA guidance on Physical Protection of Nuclear Material and Facilities. This critical document will assist countries in implementing physical protection measures over nuclear material at facilities and in transport."
Secretary Chu concluded by emphasizing the importance of building a consensus approach to nuclear issues within the international community, indicating that we must be consistent in our efforts in order to achieve this vision:
"The actions we have taken together in the last year are making significant progress toward a world that is safer, more secure, and more prosperous. But there will always be more to do.
Nuclear power will play a growing role in meeting the world's energy needs, and nuclear dangers will remain. And the IAEA will only increase in importance in the years to come. We must make sure our systems and our safeguards are up to the task of ensuring nuclear power is both peaceful and plentiful."