You are here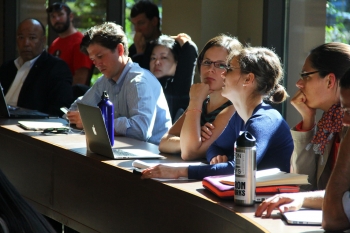 Panelists discuss the role of colleges and universities in helping to further clean-energy research and entrepreneurship during a forum at Stanford University. | Photo courtesy of Stanford Energy Club.
Last Friday, students from colleges and universities throughout the San Francisco Bay Area gathered for an Energy Department-led forum highlighting opportunities for a new generation of Americans to create sustainable energy solutions.
As part of Stanford University's Energy Week, the Energy Department partnered with Stanford's Energy Club, the Berkeley Energy and Resources Collaborative (BERC) and the Stanford Center for Social Innovation to bring together students, the business community, academia and the public sector to explore the policies, technologies, deployment and financing of a new energy economy.
Dr. Arun Majumdar -- former director of the Energy Department's Advanced Research Project Agency-Energy (ARPA-E) -- was the keynote speaker for the event. Majumdar presented the audience an array of facts about the global energy economy -- including sharing examples of how a fundamental reframing of a challenge can lead to breakthrough energy innovations.
"People are willing to take risks if there is sufficient reward," Majumdar said. He admonished students engaged in inventing and engineering new approaches to energy use to "never violate the laws of nature."
Following the keynote, Matt Scullin, CEO of waste-heat-to-electricity startup Alphabet Energy credited Majumdar, his former professor, for convincing him to take the leap in starting his own company. Entrepreneurship is not for the faint of heart, Scullin pointed out as he described the roller coaster ride of raising $16 million to keep the now four-year-old company alive.
The event finale included a panel discussion on the role of colleges and universities in research, innovation and entrepreneurship. The robust exchange covered a wide range of topics -- from long-term policy support to the role of adequate energy curricula.
As the event drew to a close, event organizers, speakers and attendees left with renewed awareness of the many opportunities for students and young entrepreneurs to advance the energy solutions of the future.