You are here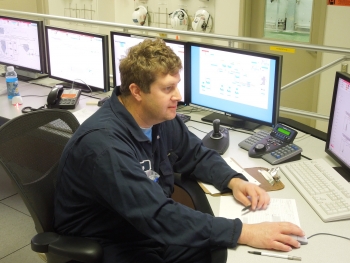 Wade Reichelderfer is among the recent hires at DuPont's newly expanded solar manufacturing plant in Circleville, Ohio. | Photo courtesy of DuPont.
Earlier this week, DuPont celebrated the grand opening of their newly expanded solar manufacturing plant in Circleville, Ohio. Supported by $50 million in federal clean energy tax credits, the plant expansion exemplifies American ingenuity and manufacturing capabilities in clean energy technologies.
In addition to helping to produce technologies that will provide clean power for our country's homes and businesses – the DuPont expansion project is creating local jobs. To support the expansion project, DuPont hired several hundred construction workers and created 70 permanent positions. Among the recent hires is Wade Reichelderfer, who works as a casting control operator at the facility. 
In his role, Wade creates a thin film material that enhances the overall performance of solar panels. "It helps with durability – making the panels weather tight and dust proof," he explained.
Wade was hired by DuPont about a year and a half ago, after successfully completing the company's skills and work test, through a local vocational training center.
When asked about what he enjoys most about his work, Wade said, "just being a part of a team that really cares and wants to get the job done." He went on to add, "people that I talk to about my work tell me how lucky I am. DuPont has been in the community since the 60s, so it's a very secure and stable job."
For more on the DuPont's solar manufacturing facility, view U.S. Energy Secretary Chu's statement.