Transition is nothing new in the Arctic. People in this part of the world have adapted to the changing conditions for millennia, altering the ways in which they get heat, transport themselves to other areas and – more recently – generate and use electricity. 
Today, several Alaskan utility companies are using the world's transition to renewable forms of energy as an opportunity to find innovative ways to reduce dependence on carbon fuels. By harnessing and carefully managing local resources, these entities are providing new ways to power homes and businesses across the region. 
Cordova Electric Cooperative (Load: 1.5 – 8.5 megawatts; 30,000 megawatt-hours annually)
In Cordova, Alaska, summer means more tourists and seafood processors operating 24/7, all contributing to the area's 250% increase in its demand for energy compared to the winter months. These needs prompted the community's utility company, Cordova Electric Cooperative, to use water from local rivers to help power the town. Currently, the cooperative is drawing 70% of its power from two hydroelectric systems which use this water and diesel-fueled generators to produce electricity.
However, the organization wants to completely eliminate the need for diesel fuel altogether before 2030. To achieve this goal, it is working with the community to reduce power demands year-round by installing LED bulbs in public lights and implementing the capability to pace energy in both commercial and residential buildings to align it with optimal use of the generation system. The cooperative is also investing in changes to the major elements of grid infrastructure – a battery bank, grid-scale solar and a small-scale hydro storage site.  
Kodiak Electric Association (Load: 10 – 28 megawatts; 146,000 megawatt-hours annually)
The stand-alone electrical grid in Kodiak, Alaska operates 99% of the time – every day, all year – on renewable resources. This electricity supports the town's six major seafood processors, a regional airport, a hospital, the largest Coast Guard base in the world and a rocket launch facility (we're not kidding! Check out Alaska Aerospace), all while also powering the day-to-day operations of residents and businesses.
The transition to cleaner energy wasn't easy for the Kodiak grid, but like the Cordova Electric Cooperative, it was determined to eliminate its consumption of diesel fuel. Just four years ago, the Kodiak Electric Association was drawing 80% of its energy using hydroelectric power from the nearby Terror Lake, and using diesel to manage peak loads and deal with dry spells when the water flow couldn't sustain the needed power. 
Once the utility's board set a goal of using 95% renewable energy, the area upgraded its hydroelectric turbines, added wind production and incorporated batteries and flywheels to ensure the system is able to respond to changes in both the system loads and variations in the wind resource. These changes mean residents now have access to power which is cheaper than what they could get on the mainland from a system able to withstand earthquakes, wildfires, blizzards and hurricane force winds. 
Kotzebue Electric Association (Load: 1.5 – 3.5 megawatt; 20,000 megawatt-hours annually)
Kotzebue, Alaska doesn't have the rain or elevated terrain Cordova and Kodiak have for hydropower, but this region does have wind - and lots of it. In fact, in 1997 the area opened the first wind farm at an Alaskan utility company. Using its decades of experience, the Kotzebue Electric Association is able to anchor the turbines – or the devices which convert wind into energy – in the permafrost and operate them safely in ice-bearing winds. In 2020, some of the oldest turbines yielded their place to (wait for it …) a 576 kilowattphotovoltaic solar installation. You heard right … utility scale solar above the arctic circle. 
The association is on track to double its wind and solar capacity, enabling it to go fully diesel-free for parts of the year. Different energy storage methods have enabled the town to manage the constantly changing patterns of wind and solar, which include using a large lithium-ion battery bank at the power plant and using any surplus energy to reduce heating costs at the regional hospital by powering an electric boiler there. The community is helping with this goal, as well, by installing small electrothermal heaters and air source heat pumps in homes and commercial buildings. When diesel generation is required, the heat that would otherwise be rejected through radiators to the outside environment can instead be recovered and used to heat local buildings and make ice. That ice then goes to local subsistence and commercial fishermen – for free – helping them keep their catch fresher.
These utility companies are turning their commitment to producing cleaner forms of energy into reality every day by powering the residents and businesses they serve – and they're not alone. Cordova, Kodiak, Kotzebue and more than 70 other Alaskan communities are reducing their reliance on fossil fuel by harnessing locally available sustainable energy resources, and transitioning to hybrid renewable-fossil, or in some cases fossil-free, energy systems. The Department of Energy's Arctic Energy Office is here to help evolving energy system technologies mature by deployment in these living laboratories of the north, where power and heat are critical and failure is not an option, readying them for high-confidence implementation worldwide. As they say in Alaska, "North to the Future!"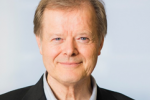 George Roe
George is the Director of the Arctic Energy Office, a member of the University of Alaska Fairbanks research faculty, and holds joint appointments with the Idaho National Laboratory and Pacific Northwest National Laboratory.
more by this author