The Secretary's remarks, as prepared for delivery, at the U.S. Institute of Peace Conference "Nuclear Weapons Testing: History, Progress and Challenges" in Washington, D.C. on September 15, 2014.
Good afternoon, I want to thank Ambassador Umarov for inviting me to participate.
I also want to thank the U.S. Institute of Peace, the Embassy of Kazakhstan and the other partners for hosting this conference. I'll talk more about the important leadership that Kazakhstan has shown in support of banning nuclear testing toward the end of my remarks.
This conference is focused on the issue of nuclear weapons testing and the road forward for the Comprehensive Nuclear-Test-Ban Treaty.  I have two very simple messages to share.
First, the United States continues to observe its nuclear test explosion moratorium, in place since 1992.  Maintaining the moratorium is made possible by the Stockpile Stewardship Program, which, in turn, has allowed the United States to transform our Nuclear Security Enterprise.
Second, the United States remains committed to ratifying and entering into force the Comprehensive Nuclear-Test-Ban Treaty, which will lay the groundwork for a world with diminished reliance on nuclear weapons, reduced nuclear competition, and eventual nuclear disarmament.
To underscore the importance of our Stockpile Stewardship Program – and this Administration's commitment to global nuclear security – I want to begin my remarks by highlighting the priority that President Obama has placed, and continues to place, on nonproliferation, disarmament, and security.
President Obama has made eliminating and securing nuclear material, reducing nuclear stockpiles, and increasing global cooperation a pillar of his foreign policy.
Last summer in Berlin, the President echoed the vision he first put forward in his 2009 Prague speech – calling on the global community to secure vulnerable materials, decrease the number of nuclear weapons, and build a sustainable and secure nuclear energy industry. 
Over the last five years, we have seen some remarkable progress. There remains a lot to do, but we should mention the progress. Let me mention a few examples:
Working with Russia under the New START Treaty, we are reducing our number of deployed strategic warheads to the lowest level since the 1950s.
Since 2009, America has partnered with 26 countries and Taiwan to eliminate more than 3,000 kilograms of highly enriched uranium and plutonium – enough material for well over 100 nuclear weapons - and has eliminated all HEU from 12 countries.
Last December, we reached a major milestone in the "Megatons to Megawatts" program – the final delivery to America of low enriched uranium derived from 500 metric tons of HEU from dismantled Russian nuclear weapons.  This "swords-to-plowshares" partnership provided about 10% of American electricity over two decades.
President Obama also launched the Nuclear Security Summit process.

The first was held in Washington, D.C in 2010, with 47 delegates, including 38 heads of state or government, the largest number convened by a U.S. president since the 1945 UN Conference on International Organization.
In 2012, the second summit was held in Seoul and focused on the progress made on implementing the initial agreements.
The third summit was held in The Hague in March of this year and centered on the results achieved and the future opportunities, such as the agreement we were able to announce between the U.S. and Japan.  
President Obama has announced that he will host a fourth summit in the U.S. in 2016.
So the United States is committed to continuing to reduce the size of its active deployed stockpile, while maintaining a credible and effective nuclear deterrent.
As President Obama said in Berlin: "After a comprehensive review, I've determined that we can ensure the security of America and our allies, and maintain a strong and credible strategic deterrent, while reducing our deployed strategic nuclear weapons by up to one-third."
The President made clear at that time our readiness to negotiate further nuclear reductions with Russia, but Russia indicated no interest.  Now, given current challenges with Russia, this is not a focus of our bilateral dialogue.
Nonetheless, whether at New START levels, or potentially lower levels in the future, we must maintain confidence in our remaining nuclear weapons without testing.
The Department of Energy's science-based Stockpile Stewardship Program has allowed the United States to ensure the safety, security and effectiveness of our nuclear arsenal in the absence of testing.
During my first tour at DOE, as the Undersecretary of Energy in the Clinton Administration, the Stockpile Stewardship Program was in its early years and its future and successes were still unknown. 
Many of the new facilities were in the design phase. We had not fully established the role of large-scale numerical simulation and modeling, which works together with a new generation of high performance computers that were developed with industry and our National Laboratories, as an integrator of historical data with new non-nuclear experiments.
At the time, I served on the DOE-DOD Nuclear Weapons Council, and there was, justifiably, a "show me" attitude about whether we could maintain the U.S. stockpile for an extended period with high confidence without nuclear testing. And I might say that was true in Congress as well.
Today, we can say with even greater certainty that we can meet the challenges of maintaining our stockpile with continued scientific leadership – not nuclear testing.
Next week will mark 22 years since the last United States nuclear explosive test, and because of the Stockpile Stewardship Program, the Directors of the Department's National Security Laboratories have been able to certify the diminishing stockpile annually.  Our lab directors believe they actually understand more about how nuclear weapons work now than during the period of nuclear testing.
Nuclear testing provided confidence through end-to-end tests of the weapon systems.  By contrast, our Science-Based Stockpile Stewardship Program has approached the problem by breaking down the operations of a weapon into a sequence of individual steps.  We are then able to step back and analyze each of these mechanisms at a level of detail that was never available during the era of nuclear testing.
With suitable continuing investment in the science base and the manufacturing complex, we can continue with confidence into the future.
The Stockpile Stewardship investments in supercomputing in the 1990s drove high performance computing to 100 petaflops. Applications to scientific discovery followed closely behind. Now there is a bit of a reversal. The drive to exascale put forward in our latest budget request to Congress is now driven principally by scientific discovery and energy technology development, with Stockpile Stewardship benefitting from those investments. This is a different type of swords-to-plowshares story.
The Department of Energy is committed to transforming the entire nuclear security enterprise to address a broad set of national and global security issues. 
At the former Nevada Test Site, which is now called the Nevada National Security Site, we have moved well beyond the 928 nuclear explosive tests conducted there.  The site still hosts key Stockpile Stewardship work, but is also an experimental test bed and training ground for other missions, most notably nuclear nonproliferation and arms control, homeland security, and emergency operations. 
Last month, I was able to dedicate the new Kansas City Plant that is responsible for manufacturing non-nuclear components for the stockpile.  The plant footprint has been reduced by 50 percent and provides an example of our need to modernize the complex, but also size it appropriately to our expectations of a smaller stockpile.
While it is necessary for some details of sensitive Stockpile Stewardship work to remain classified, we will continue to release a significant amount of material to the public to explain the rationale, plans, and successes of Stockpile Stewardship. 
I repeat that the United States remains committed to ratification and entry into force of the Comprehensive Nuclear-Test-Ban Treaty, along with the monitoring and verification regime. And this Administration will continue making the case for U.S. CTBT ratification to build bipartisan support.
I came to the Department of Energy in my previously role 1997, soon after the United States was the first country to sign the Treaty.  I was also at the Department when the Senate considered the Treaty for ratification in 1999 and remember sitting – not entirely happily – behind Secretary Richardson at the Senate hearing on the treaty. 
Clearly, we were disappointed that the ratification effort did not succeed at that time, but I believe we have an even stronger case to make now due to two major developments: 
First, the robust Stockpile Stewardship Program that I just described.
And, second, the advancements in international monitoring and verification over the past 17 years, to which the United States has made a number of significant contributions.
I visited the Preparatory Commission for the Comprehensive Nuclear-Test-Ban Treaty Organization in Vienna last summer.  I was impressed with the team of international experts in nuclear explosion monitoring and verification, supported by experts from the 183 State Signatories. 
The Treaty's verification regime, which was simply a concept two decades ago, is now close to being a complete International Monitoring System, supported by the International Data Centre. This system has effectively demonstrated its capabilities, detecting and helping states identify the three declared nuclear explosive tests conducted by North Korea over the past several years. 
The 2004 Indian Ocean earthquake and tsunami and the 2011 Fukushima nuclear crisis also proved how the International Monitoring System can serve important non‑verification related purposes, such as tsunami warnings and tracking radioactivity from nuclear reactor accidents. 
I'm pleased that nearly 90 percent of the planned International Monitoring System stations are already certified or installed, with plans for additional stations.
A total of 89 countries spanning the globe will be part of the system. Thirty-five of the planned 37 United States International Monitoring System stations, along with a certified Radionuclide Laboratory, are fully operational and certified by the CTBTO. 
A great deal of the technology used by the stations and in the Radionuclide Laboratory originated from Department of Energy experts in seismology, infrasound analysis, hydroacoustics and radiation detection. 
I recently had the pleasure of giving one of the Department's highest honors, the E.O. Lawrence Award, to Dr. Stephen Myers from Lawrence Livermore National Laboratory.  Dr. Myers, and a team drawn from other laboratories, developed a computer model to greatly improve location accuracy for seismic events detected by the International Monitoring System. 
This is just one of the many examples of technological advances that Department of Energy scientists have provided.
Again, on both the non-testing certification of our stockpile and on the global verification system, the two major issues which came up in the 1999 hearing, I believe we have seen enormous progress in the past 15 years.  As I said, I believe we have a much stronger case to make today than at that time.
In moving towards conclusion, I do want to say a little of Kazakhstan's leadership in nuclear security. Today's conference is just the latest example in a long line of important successes.
On Kazakhstan's first day of independence, August 29, 1991, the Semipalatinsk nuclear test site was shut down by a unilateral presidential decree.  In the 20 years since President Nazarbaev's dramatic decision, the United States and the Republic of Kazakhstan have worked together closely to achieve our shared nuclear security goals.
This collaboration, achieved with the support of many international partners, has helped eliminate or remove Kazakhstan's nuclear stockpile of more than 1,400 nuclear warheads inherited after the dissolution of the Soviet Union, and has led to the removal of hundreds of additional missiles and bombers.
Khazakhstan has been the driving force behind the annual United Nations Day Against Nuclear Testing held on August 29. And in 2011, Kazakhstan hosted the "International Forum for a Nuclear-Free World," to coincide with the 20th anniversary of the closure of Semipalatinsk. 
Kazakhstan has also been one of our strongest partners in nuclear nonproliferation.  Our collaborations have resulted in major accomplishments, such as Project Sapphire, under which 600 metric tons of highly enriched uranium was removed from Kazakhstan, and the safe shutdown of Kazakhstan's plutonium production reactor at Aktau was accomplished.
The Department of Energy is currently working with Kazakhstan to minimize the use of highly enriched uranium in civilian application, cooperating to establish a Nuclear Security Training Center and conducting ongoing work to enhance Kazakhstan's ability to prevent illicit trafficking in nuclear and radiological materials.
Moreover, Kazakhstan helped lead the effort to create the Central Asia Nuclear Weapon Free Zone.  The United States was pleased to join with the other NPT nuclear weapons states and sign the protocol to the treaty this past May in New York.
The United States looks forward to continuing to partner with Kazakhstan to strengthen nuclear security around the world and pursue our shared vision for a world without nuclear weapons.
I might add that Kazakhstan is taking a leadership role in other important security areas as well. The Central Reference Laboratory near Almaty, funded by the U.S. Defense Threat Reduction Agency, will offer high security- high tech lab space for studying dangerous pathogens.
To conclude, the world will be a safer and more secure place if nuclear testing is relegated to the pages of history.  There was a time when an active and robust United States nuclear explosive testing program was necessary, but that time is more than 20 years in the past. 
Global nuclear security is of utmost importance to the United States.  To achieve this goal, we need to advance arms control initiatives, such as the CTBT, and to ensure that we continue to develop the science and technology that allow us to monitor arms control implementation.
Thank you again to the U.S. Institute of Peace, the Embassy of Kazakhstan and all the partners for hosting this conference.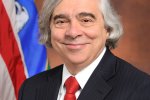 Dr. Ernest Moniz
As United States Secretary of Energy, Dr. Ernest Moniz is tasked with implementing critical Department of Energy missions in support of President Obama's goals of growing the economy, enhancing security and protecting the environment.As United States Secretary of Energy, Dr. Ernest Moniz is tasked with implementing critical Department of Energy missions in support of President Obama's goals of growing the economy, enhancing security and protecting the environment.
more by this author