Well, thank you, Tom [Fanning] and Paul [Bowers], and Buzz [Miller] as well.  It's really been a great day down here.  And I'll say more about that, but right off, it's great to come down from Washington, down here to Georgia, and see real big stuff going on. 
I'll say a little bit about another loan guarantee-supported project, last week we were out in the Mojave Desert with a huge solar thermal plant: a very, very different technology.  But you look at it and you see energy is big and this is what it takes to supply those services that Tom was just talking about. 
Whether it was last week, this week, others of these big projects, you all know it's easy not to have these projects happen.  To have them happen just takes a tremendous amount of partnership and cooperation among many.  Now, with Tom and the Southern Company Georgia Power, as Tom already said, we have a very good partnership.  His story is true.  We went one-on-one into a small room and said, damn it, it's time to get this thing done, and we have great partners. 
But I would also like to add, again, my recognition to Congressman Barrow.  In the end, you know, as difficult as it can be some days, Congress obviously is essential in getting this done.  The private sector we've already discussed; our Commissioners McDonald and Everett. Without working with the states, the regulatory agency state government, you can't get it done.  And of course the customers are always central.  Ultimately they are paying the bill.
So I just want to emphasize that we see ourselves, with this loan guarantee support, really as one part of a team from multiple parts of our private sector and our governments that are always needed to have big, complex projects succeed.  So I think this is something else to celebrate today, that we can all pull together and get this done. 
And I do want to recognize Peter Davidson – Peter, stand up for a second.  Peter heads our loan office, and under his leadership has really continued to build what is one of the outstanding finance organizations for projects you'll find anywhere in terms of the way they approach projects.  And of course to execute the projects, a couple of other people I mentioned earlier, but I'll mention Danny Roderick from Westinghouse, Sean McGarvey from the construction trades. Again, it's one thing to get to the starting line; it's another thing to get to the finish line, and they obviously are critical there.
In fact, going back a little bit to what Tom was saying in terms of families, et cetera, I'd just say that I was in the meeting with other administration colleagues and many leaders of our labor unions in Washington, D.C., and the theme of, also, the energy infrastructure developments in this country providing the prime opportunities for our workers to have middle class – Sean prefers upper middle-class or upper-upper middle class jobs – is absolutely critical.
And that's another thing that we see here, both in the construction phase, and then ultimately, of course, in the operating phase. President Obama talks often about the ladders of opportunity for our people to go up the ladder of opportunity and, again, these kinds of projects provide that in spades.  These are jobs that are here; they are not outsourced.  They're complicated jobs, skilled jobs, and appropriately compensated.
So again, we just see ourselves as part of this team to go end-to-end from concept to, ultimately, in four years – I wish you could accelerate it by a year – ultimately to this project producing electricity for the economy and for consumer services here.
The President, gave his State of the Union speech, as you know, at the end of January – just over three weeks ago – and since then, this is the latest stop on, kind of, a travel log of hitting various sites with major energy projects in the Mojave Desert as I mentioned was last week. Before that, it was Texas; before that, it was Virginia.  Now it's Georgia.
Maybe – even though it was way before the State of the Union, I'll add a November trip to another southern project, which was the Kemper, Mississippi coal gasification project.  You will note that from November to February, I take the Southern route, leaving the Northern tour for the spring and summer with weather like this.
But of course, as was already alluded to, out of the norm, polar vortexes – we all know, as here in Georgia, there were some of the really difficult times. Of course, Atlanta in particular was on the national news in terms of these incredible difficulties that people had in traffic jams, et cetera.  And this kind of extreme weather is also a reminder that as we move forward with our energy infrastructure, we really have to think about resilience, actually, to multiple threats.
Not only extreme weather, but cyber threats, physical threats, geomagnetic threats, infrastructure interdependency threats – and I want to say here, by the way, that Tom Fanning as well has stepped up to head a utility group working with us on some of these issues of cyber and other threats to our infrastructure.  So that's another example of the partnership that we are pursuing.
Let me go back to the energy portfolio theme that Tom discussed.  I would emphasize that, of course, in the Administration, we are strongly committed to combating the risks of climate change, in doing so, we come to the same place.  It's about all of the above.  In fact, this tour that I mentioned – it started in Eagle Ford shale country in Texas – the gas and oil boom that we are seeing, is still consistent with our reducing CO2 emissions, in fact, we were just recently at the lowest point in 20 years.
Then there was energy efficiency, with the mayor of San Antonio and the projects that we do there.  There was the solar-thermal project – the largest in the world –almost 400 megawatts of solar thermal in California renewables.  In Virginia, we looked at the STEM education issues, the human capacity-building that we will need to draw upon all of our talents in this country as we build the economy and build the energy infrastructure that underpins it.
And of course, today, nuclear. Essentially, today completes my "all of the above" portfolio travelog, and every piece of this, as Tom emphasized, we consider to be essential as we look at a lower-carbon future.  So this is what we're doing with the loan guarantee program.
One other theme, just to mention, is that it really is, for us, about first movers, as is this Vogtle project, as was that solar project in California, et cetera, as are many other projects in our portfolio.
Many of us have only a dim memory of 2008, 2009, when our economy was not in very good shape, when getting debt financing for big projects just wasn't really there.  And that's where, I think, being able to step in, to move to commercial-scale projects that push the technology envelope – in this case, our very first commitment to AP-1000s in this country is what we were able to do as our part of the partnership to move forward across this entire energy spectrum.
And finally, what I wanted emphasize is that this energy infrastructure buildout is not only for Georgia, not only for the United States; it's for the world.  Recently, a very respected clean energy investment firm series estimated that an investment of approximately $36 trillion would be needed over the next, say, four decades globally to reach the kind of ample economic clean energy supply that we and the rest of the world will need.
So another factor for our economy is if we don't move out with these kinds of projects, we're not going to be at the head of the train.  And we, the United States, should not be running to catch up to the caboose. Now, I'll just mention, with AP-1000s. I've been in China.  We've been in other countries of the world advancing American technology.  Getting it done in the United States means a lot, especially when you look at the regulatory structure that others know that we have in building safe plants.
But the same is true, again, in the solar area, whether it's photovoltaics or solar thermal – other renewals – carbon capture and sequestration, where I know, again, Tom mentioned – he's going to be in China, I think, looking at this. So we are getting projects done across the board to serve the clean energy needs in our country, but also to establish strongly the technology base that can lead to that strong technology export possibility in markets that we think we need.
So that's basically what we're about.  Again, we're part of the team, and we're going to continue this.  With Sean, we've had discussions about the continuing importance for all of the purposes I discussed earlier of continuing this buildout and technology push.  Not only have we deployed more than $30 billion of loan guarantee; we've got $40 billion left to play.  So we want to keep doing this, build the energy infrastructure, build the grids, build the pipeline infrastructures that we need for the future.
And today as I said, at least in my personal travelogue, this kind of puts the cherry on top of the sundae that we have our "all of the above" energy strategy in play.  And as the president said in the State of the Union, the "all of the above" energy strategy that he articulated a few years ago is working, and this is an example of it working.
Thank you very much for all you've done to help this project become a reality.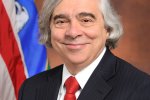 Dr. Ernest Moniz
As United States Secretary of Energy, Dr. Ernest Moniz is tasked with implementing critical Department of Energy missions in support of President Obama's goals of growing the economy, enhancing security and protecting the environment.As United States Secretary of Energy, Dr. Ernest Moniz is tasked with implementing critical Department of Energy missions in support of President Obama's goals of growing the economy, enhancing security and protecting the environment.
more by this author