You are here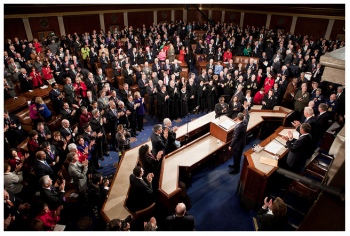 President Barack Obama delivers his State of the Union address in the House Chamber at the U.S. Capitol in Washington, D.C., Jan. 25, 2011. | Official White House Photo by Lawrence Jackson
When the President begins his third State of the Union address this evening at 9pm EST, several important women and men in the fields of energy, science & technology will be sitting in the Capitol Building alongside First Lady Michelle Obama. Check out their bios below.
You can watch the broadcast tonight on television, or tune into WhiteHouse.gov/SOTU. We'll also be tweeting the President's major energy points at Twitter.com/Energy.
Among the guests of the First Lady this evening:
Jackie Bray is a single mother from King's Mountain, North Carolina.  Last January she was laid off from her job as a high speed packaging mechanic.  That is when she enrolled in Central Piedmont Community College to prepare for Siemens pre-hiring test.  After finishing the course and passing the test, Ms. Bray was hired by Siemens in August of 2011. This type of partnership between businesses and community colleges is exactly what President Obama hopes to strengthen to maximize workforce development strategies, job training programs, and job placements.  Ms. Bray now works as a process operator, combining her machinist background with new skills she has been trained on since working at Siemens: laser training, robotics training, penetrant inspection training, and product orientation.  
Mayor Julián Castro was first elected mayor of San Antonio in 2009 and at 37 years old is the youngest mayor of a top 50 American city. He is a former city councilman and founder of a law firm. He graduated from Stanford University and earned his J.D. from Harvard Law School in 2000. During his Administration, the Milken Institute ranked San Antonio as the best-performing city in the nation in 2011. In January 2012, Mayor Castro announced that CPS Energy, a municipally-owned utility, has entered negotiations to bring at least 800 jobs and $100 million in capital investment to San Antonio. This is expected to be one of the nation's largest solar projects resulting in 400 megawatts of zero-emissions solar energy.
Dr. Hiroyuki Fujita is founder, president and chief executive officer of Quality Electrodynamics (QED), in Cleveland, Ohio. Coming to America from Japan in 1988 and after receiving his Ph.D. in physics from Case Western Reserve University in 1998, Dr. Fujita chose to continue his professional training in America.  In 2006 he started his own company, QED, which is a developer and manufacturer of highly proprietary state-of-the-art MRI radiofrequency antennas. QED is now one of the world's largest suppliers of these products and ships throughout the globe.  In 2010, Dr. Fujita founded his second company, eQED, a solar energy-related electronics development and manufacturing company.  With the founding of both QED and eQED, today Dr. Fujita is creating high tech, advanced manufacturing jobs in the healthcare and energy sectors in the United States.
 
Bryan Ritterby had been in the furniture manufacturing industry for more than 25 years working on the manufacturing floor, in the quality department and as a field service representative, but was laid off in February of 2009.  Mr. Ritterby then went through the Grand Rapids Community College Composite Technician Training Program in conjunction with a new start-up company, Energetx Composites.  Upon completion of the program, Mr. Ritterby was hired by Energetx Composites as a composite technician in April of 2010.  Today, Mr. Ritterby is a Lab Technician for Energetx Composites conducting material tests in the company's laboratory verifying materials to be used in wind turbine blades, as well as working on blade validation tests for all of the community scale wind blades Energetx is manufacturing.