You are here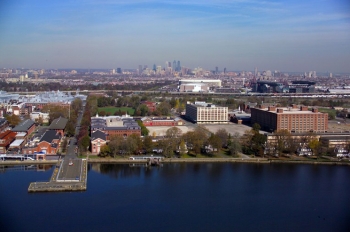 This is the Greater Philadelphia Innovation Cluster located at the Philadelphia Navy Yard, which has 270 buildings that consortium members can use to conduct energy efficiency experiments. The Energy Efficiency Buildings Hub is one of the U.S. Department of Energy's research centers called Energy Innovation Hubs. | Photo courtesy of EEB Hub
Editor's note: This article has been updated to reflect the name and URL changes of the Greater Philadelphia Innovation Cluster (GPIC) for Energy-Efficient Buildings to the Energy Efficient Buildings Hub.
Energy efficiency retrofits in Philadelphia could spur $618 million in local spending and support 23,500 area jobs according to a recently released report conducted by Philadelphia-based Econsult Corporation and commissioned by the Energy Efficient Buildings Hub.
The EEB Hub is one of the Energy Department's research centers called Energy Innovation Hubs. It includes 24 partner institutions from industry, academia, National Laboratories and local economic development agencies. This Energy Innovation Hub aims to demonstrate a 50 percent reduction in building energy use, which could transform the building retrofit industry.
The report, "The Market for Commercial Property Energy Retrofits in the Philadelphia Region," estimates that nearly half of the commercial buildings in the Greater Philadelphia region – more than 4,000 buildings with a combined 154 million square feet of space – could be good candidates for energy saving retrofits.
Energy-efficient retrofits have considerable value for building owners and tenants in Philadelphia. The area's average energy expenditure is the fourth highest in the nation, nearly 30 percent higher than the national average. According to the report, Philadelphia's average annual energy expenditure for commercial property is $2.84 per square foot. The national average is $2.21 per square foot.
The report is one of two released this week that aim to provide a baseline to the EEB Hub's efforts, further structure the project, and reduce the barriers to energy efficiency retrofits in the Greater Philadelphia area.
The second report, "Policy and Process Factors Impacting Commercial Building Energy Efficiency in Pennsylvania and New Jersey," focuses on policies and regulations that encourage or block energy efficiency retrofits in Pennsylvania and New Jersey. It found that while both states are taking advantage of many policy options to streamline the process, there is still a lot of work to be done.
The EEB Hub is located at the Philadelphia Navy Yard, which has 270 buildings that consortium members can use to conduct energy efficiency experiments. The team is working with software partners to develop retrofit and building design tools to view all the building's systems – air conditioning, heating, and water – as one system, which improves energy efficiency by keeping individual systems from working against one another. It also working to design advanced components, controls, and diagnostics for building systems solutions.
Alongside these initiatives, the two commissioned reports help set a baseline for the overall project including investment into building systems, public policies, and workforce development. These measures encourages private investment and the creation a good jobs here at home as the city of Philadelphia attempts to make buildings 50 percent more energy efficient in the next decade.
The reports can be found at the EEB Hub, previously GPIC, website here.