You are here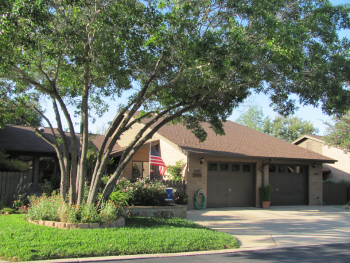 A retirement community in San Antonio worked with a local Better Buildings Neighborhood Program partner, CPS Energy Saver, to make energy efficiency upgrades to 189 single-family cottages. | Photo courtesy of CPS Energy.
In a retirement community for military officers and their spouses, San Antonio's Army Residence Community (ARC) is launching an offensive against energy waste. Working with the local utility, CPS Energy, and the city of San Antonio, the ARC made energy efficiency upgrades to its 189 single-family cottages -- helping residents cut their energy use while improving their comfort.
The ARC -- a non-profit organization that is independent of the military -- is committed to improving the energy efficiency of its buildings as a way to help support sustainable buildings and reduce its utility costs. So when residents in the retirement community reported problems regulating the temperature in their homes, the ARC decided to make thermal improvements, like adding attic insulation, to all of its cottages.
Before it started the upgrade process, the ARC worked with Better Buildings Neighborhood Program partner CPS Energy Savers -- a collaboration between the city of San Antonio and CPS Energy -- to find rebates for not only insulation but deeper energy efficiency upgrades. The additional incentives allowed the ARC to replace the cottages' appliances -- including refrigerators, air conditioners and water heaters -- with more energy-efficient models. The ARC also sealed air ducts and installed LED lighting in some of the cottages.
The upgrades helped improve the energy efficiency of each cottage by 15 percent or more. That equals an electricity savings of about 367,000 kilowatt hours a year -- or almost $34,000 in annual electricity costs for all of the cottages combined. Although utilities are included in residents' fees, the ARC passes these cost savings on to the residents through reduced community fees.
"With these incentives, the deeper upgrades sold themselves," said Carla De La Chapa, program manager with CPS Energy Savers. "Incentives plus rebates led to much deeper savings; without them, it would have been just an attic insulation job."
With the weather heating up in San Antonio, residents of the ARC are looking forward to staying cool this summer without wasting energy.