You are here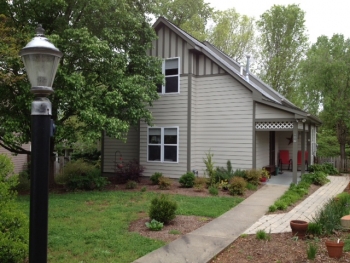 Energy efficient upgrades helped Margie Garmey save money while reducing her impact on the planet. | Photo courtesy of Margie Garmey.
When Margie Garmey and her partner bought their newly constructed two-story home in 1995, they had no idea it wasn't built to be energy efficient. Over the years, there were signs the house wasn't running as smoothly as it could -- like even though they had central air, it was still impossible to sufficiently cool their second floor. But it wasn't until the Local Energy Alliance Program (LEAP) offered a seminar on energy efficiency upgrades in 2010 that they decided to explore their options for improving their home's comfort while reducing their impact on the environment.
"Like most homeowners who don't work on the house themselves, I couldn't figure out by staring at my house whether I needed to replace my windows or increase my insulation [to make the second floor more comfortable]," said Garmey.
After talking to LEAP -- a partner in the Energy Department's Better Buildings Neighborhood Program -- Garmey decided to move forward with the energy upgrade process, first selecting a certified home energy auditor from a list LEAP had preapproved and then getting a whole house energy assessment. Through the energy audit, Garmey learned that making whole-house improvements would not only increase the energy efficiency and comfort of her home but also improve its health and safety. Based on the audit's findings, Garmey added insulation to her attic, air sealed throughout the house, replaced her water heater and fixed a gas leak. To address the excess heat on the second floor, Garmey also had modifications made to her HVAC system and ductwork to create a dual-zone heating and cooling system.
Since making the energy efficiency improvements almost two years ago, Garmey and her partner can't believe the difference in the comfort and efficiency of their home. They estimate that the upgrades have helped them save 22 percent on their energy bills. The upgrades have also given Garmey the peace of mind that they are doing their part to protect the environment.
"The psychological comfort is big for us," said Garmey. "I think we did good things for both us personally and the environment in general by not wasting energy."
Garmey is just one of 1,000 homeowners in the Charlottesville area who are enjoying lower energy bills and more comfortable homes thanks to LEAP's energy efficiency program. In total, these upgrades have helped central Virginia homeowners save more than 8 GwH of energy -- or $550,000 in cumulative energy costs.