You are here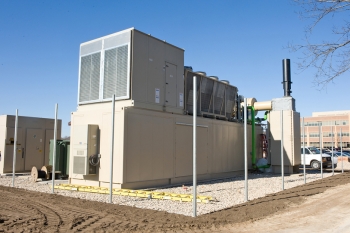 Gundersen Health System teamed up with La Crosse County to turn methane gas from the county's landfill into electricity and heat for the Gundersen Lutheran - Onalaska Campus, making it the first-known energy independent medical campus in the U.S. | Photo courtesy of Gundersen Health System.
Consuming close to 10 percent of the total energy used in U.S. commercial buildings, healthcare facilities on average are among the most energy-intensive buildings in the United States, spending more than $8 billion on energy every year. That's enough to cover the average salary of more than 100,000 registered nurses. With rising energy costs straining already tight budgets, many healthcare facilities are seeking ways to cut costs without compromising quality of patient care.
Thanks to the support of the Energy Department's Hospital Energy Alliance, many healthcare organizations are focusing on energy efficiency as a win-win solution to improve facilities, reduce environmental impacts, and save healthcare systems needed resources -- resources that can be used to hire new staff, purchase new medical equipment, or improve patient experience. Founded in 2009, the Hospital Energy Alliance connects its members with an experienced network of hospital energy experts, providing them with information, tools, training, and resources to help make their buildings more efficient.
One steering committee member, Gundersen Health System, is a prime example of what healthcare organizations can achieve when they implement a comprehensive energy program. Servicing 19 counties within western Wisconsin, northeastern Iowa, and southeastern Minnesota, Gundersen's buildings portfolio includes regional community clinics, hospitals, behavioral health services, vision centers, pharmacies, and air and ground ambulances that are supported by more than 6,000 employees.
Since 2008 Gundersen has reduced energy consumption and improved the efficiency of its facilities by more than 25 percent by performing comprehensive energy audits, implementing a comprehensive energy management plan, and retro-commissioning its buildings. These actions have helped Gundersen save over $1 million a year on its energy bills, but it is not stopping there. Gundersen is continuing to invest in renewable energy projects to further offset its health system's energy use. Rather than purchase energy from external suppliers, Gundersen will obtain its energy from on-site or community-sourced renewable energy projects such as wind farms. Gunderson is even investing in a biogas generator that uses methane from a local landfill to produce over 8 million kWh of electricity per year -- enough to power its entire Onalaska medical campus.
Gundersen's accomplishments are praiseworthy, but what truly makes this healthcare system stand out is its commitment to helping others reduce their energy consumption. Through the Alliance, Gundersen shares its knowledge and expertise with other leading healthcare systems, representing more than 27 percent of the nation's healthcare space. Gundersen's robust approach to energy reduction has helped the organization reduce its energy bills and focus on its primary mission: quality healthcare.