You are here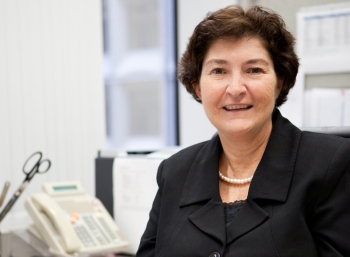 Thanks to Camille Beben of the Office of Management, approvals for Department directives that used to take 14 months now take less than 6 months. | DOE photo, credit Hantz Leger.
Here at the Energy Department, we are working every day to help develop a clean energy economy, create good jobs, and make sure America is competitive on the global stage.
To help achieve this, we are working just as hard to improve how we do business across the Department. Some of the best ideas for making our day-to-day operations run better and more efficiently have come straight from our colleagues.
So, what does that mean? Here are a few examples of the great things Energy Department employees have delivered:
Camille Beben, from the Office of Management, helped the Directives Review Board streamline the approval process for Department directives. Now, approvals that used to take 14 months take less than 6 months.
Lee Blackard, from the Office of Hearings and Appeals, suggested that many hearings and meetings can be conducted via video teleconferencing. This helped his office decrease its travel expenses 31 percent over the past year.
Robbie Green, from the Office of the Chief Information Officer, developed best practices for mobile devices, including pooling minutes and transitioning the Department to reduced rate bundled plans. This is saving us about $476,000.
Steve Kirchhoff, from the Office of Health, Safety, and Security (HSS), is leading an effort to reduce duplicative and irrelevant requirements in HSS directives by nearly 50 percent. These actions have already eliminated over 1,100 pages.
And this is just the beginning. Across the Department, we're working to streamline operations and cut unnecessary spending. As this work progresses, I'll continue to share how our employees are working to make the Department more efficient and effective.
If you know of other efficiency success stories happening around the Department, or if you'd like to suggest other efficiency measures, you can share them with us via the feedback page.