You are here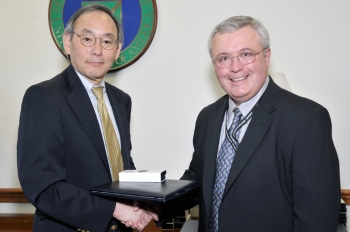 Secretary Chu hands a Secretarial Achievement Awards to Louis Sadler, who negotiating an agreement to allow a private company to construct and operate solar panels at Brookhaven National Laboratory. The solar array supplies electricity for Long Island while helping the lab achieve its sustainability goals. | Energy Department Photo
The Secretary has challenged Energy Department employees from across the country – in headquarters, site offices and laboratories – to commit to excellence in our management and operations, so that we can better support our strategic mission and the American people.
That's why we're working hard to improve how we do business across the Department.
How?
By streamlining our operations, avoiding costs and implementing changes that we can be proud of.
And none of this change happens in a vacuum. Real people make choices every day to make things better. To recognize some of these contributions, the Secretary presented Secretarial Achievement Awards this week to:
Michelle Fox and Alex Cohen, from the Energy Efficiency and Renewable Energy Office and from the Office of Chief Human Capital Officer respectively, who improved the professional development of our federal workforce through the implementation of a centralized, robust continual learning program, which could save an estimated $8 million annually.  
Robert Gordon and Louis Sadler, from the Office of Science, who contributed to the Department's sustainability efforts by n

egotiating

an agreement to allow the construction and operation of solar panels at Brookhaven National Laboratory. The array supplies for Long Island while helping the lab achieve its sustainability goals.
Shandra Harris, David Stout and William Easton, from the Office of Intelligence and Counterintelligence, for their oversight of a project at Savannah River National Laboratory to consolidate foreign and counterintelligence efforts at the lab. Their efforts saved the Department and the American taxpayer $1.5 million.
Janet Gibson, from the Office of Hearings and Appeals, who converted paper records to electronic records, freeing up space for fifteen of her colleagues.
Rachel Carter and Christopher Hanson, from the Office of the Chief Financial Officer, who improved the materials used to explain the annual budget request, ensuring logical links between budget and planning documents.
Michele Altieri, from the Golden Field Office in Colorado,  who significantly improved the processing time of Freedom of Information Act requests, increasing transparency with the public.  
Edward Regnier, Phil Wilhelm, Debbie Rosano, Pranab Guha, Mary Gallion, David Dietz, Debarah Holmer, Lesley Nelson-Burns, from the Office of Health, Safety and Security, who led a team that revised the office's directives to eliminate duplicative or conflicting requirements, while streamlining decision-making.
Congratulations to all awardees for their individual contributions, and for also representing the collective achievements of their respective teams. They are shining examples of how we can effectively serve not only the Department, but the American people.
If you know of other efficiency success stories happening around the Department, or if you'd like to suggest other efficiency measures, you can share them with us via this feedback page.