You are here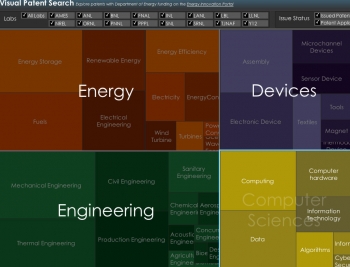 The new Visual Patent Finder tool, shown here, helps you easily browse the over 16,000 issued U.S. patents for Energy Department-funded technologies.
Elegant, simple, accessible -- these are not words that initially spring to mind to describe a patent search. However, that is precisely how we describe the new Visual Patent Finder tool on our Energy Innovation Portal. This tool helps you easily browse the over 16,000 issued U.S. patents and published U.S. patent applications for Energy Department-funded technologies.  
Conventionally, patent searches are performed using keyword searches. This can leave users feeling a bit like Goldilocks -- with search terms that are so broad they yield an unmanageable number of results, or search terms that are so narrow they yield too few results. Getting a patent word search just right typically takes lots of familiarity with a subject.
In contrast, the patent tool makes patents and patent applications funded by the Energy Department far more accessible to the public, entrepreneurs, investors and other technology seekers. Each topic is tiered, so users can drill down to very specific fields.
The tiered categories were created using the IN-SPIRE™ software that the Energy Department's Pacific Northwest National Laboratory developed. The application identifies word occurrence patterns across all patent records, and creates "clusters" of results -- and these "clusters" create technology areas. The result is a unique, visual means to easily search the many patents we have in our system, and to go beyond a simple key word search. Plus -- it's really cool.
In addition to patents, you can also check out more than 600 marketing summaries that are available on the Portal, which explain the market opportunities, benefits, and possible applications of each technology. A 508 compliant search is also available on the Portal that provides access to the same dataset. To access this search, please visit http://techportal.eere.energy.gov/search.do.
To find out more about the Visual Patent Finder, contact Robert.Bectel@ee.doe.gov or Matthew.Ringer@nrel.gov.