You are here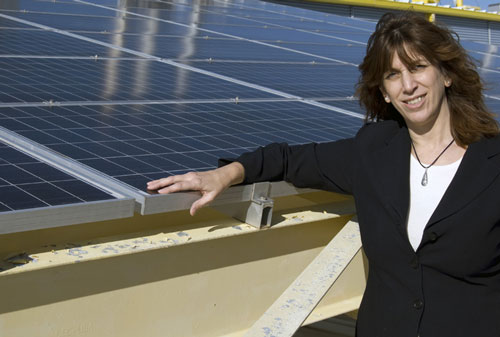 Susan Schleith, SunSmart E-Shelters program manager at Florida Solar Energy Center, stands next to
a 10kW photovoltaic system similar to ones that will be installed on emergency shelter schools throughout Florida.
| Photo by Sherri Shields/Florida Energy Center
The State of Florida is using part of its Recovery Act money to teach students the value of renewable energy
The Florida Energy and Climate Commission has awarded the Florida Solar Energy Center (FSEC) $10 million in Recovery Act money, enabling the center to set up a program that will provide solar energy systems for emergency shelters at public schools.
Through FSEC's SunSmart E-Shelters program, a minimum of 90 Florida schools will receive a 10-kilowatt or larger solar system, which includes a battery backup that will power the shelters during electrical outages, reduce energy costs and slash greenhouse emissions. Local contractors will install the systems, pumping jobs into Florida's economy.
An important goal of the program is to "increase energy literacy," says Susan Schleith, SunSmart's program manager. Teachers will incorporate the systems into their lesson plans, educating students about solar power and energy efficiency. Susan says training workshops for teachers will take place throughout the state and curriculum materials will be "online and available to download for free."
Each school will be provided with a kit of solar cells, multi-testers and other materials to ensure "they have enough lab equipment," Susan says. Students will be able to log on to energywhiz.com to learn how much energy their school's solar shelter has created and how long electronic devices - such as a PlayStation, microwave and computer - can be powered.
A review team will determine which schools will receive the systems. Schools must be designated as Enhanced Hurricane Protection Area (EHPA) shelters. Other deciding factors include the school's demographics and previous commitment to renewable energy.
The installations should be under way by late spring or early summer.
Susan has high hopes for the students involved in the program and says E-Shelters is "another tool for them" to learn about energy production and conservation.
Students, parents and teachers together can help spread the word and "get the community to understand renewable energy," Susan says.
For more information on the E-Shelters program, go to http://www.fsec.ucf.edu/en/education/sunsmart/e-shelters/index.htm