Describing America's National Parks, historian Wallace Stegnar once said they were "the best idea we ever had." But like any good idea, the parks are constantly adapting to meet the needs of the present.  Clean Cities, in the Energy Department's Vehicle Technologies Program, is proud to help our parks find solutions to many of their most pressing challenges, including local air pollution, greenhouse gas emissions, reliance on foreign oil, and fuel costs.  
Although we've been informally collaborating with individual parks since 1999, we launched a new partnership with the National Park Service last year to increase the efficiency and alternative fuel use of vehicle fleets at national parks around the country. Additionally, these projects will showcase alternative fuels, advanced technology vehicles, ways to reduce vehicle idling, and other actions drivers can take to save fuel and money.  In our first year, we worked with Mammoth Cave National Park, Yellowstone National Park, and Grand Teton National Park on projects that will annually reduce about the equivalent of 13,000 gallons of gasoline and 100 tons of greenhouse gases. Today, we're happy to announce that five additional parks have joined the partnership: Shenandoah National Park, Blue Ridge Parkway, San Antonio Missions National Historical Park, Golden Gate National Recreation Area, and Mesa Verde National Park.
Each park is collaborating with a local Clean Cities coalition to choose the best clean options for its fleet. These choices, which include electric drive vehicles, alternative fuels, and idle reduction, are as diverse as the parks themselves.  
Both Shenandoah National Park and the Blue Ridge Parkway are partnering with Virginia Clean Cities.  Shenandoah is purchasing an all-electric vehicle (EV), a plug-in electric vehicle, and 12 propane lawn mowers, as well as three EV chargers, two of which visitors can use.  Blue Ridge is improving its fleet's efficiency by replacing vehicles dating back to 1989 with eight new hybrid vehicles.  Collaborating with Alamo Area Clean Cities, the San Antonio Missions National Historical Park is also replacing older trucks.  They are planning to purchase a propane truck and an electric utility truck, as well as install two EV chargers that will be available to the public. Similarly, Golden Gate National Park is installing five EV chargers, which will serve both the public and the fleet's five new EVs through its project with the San Francisco Clean Cities coalition.  Colorado's Mesa Verde National Park is working with both Southern Colorado's and Philadelphia's Clean Cities coalitions to add new propane vehicles and mowing equipment, along with two propane fueling stations. It is also launching a park-wide initiative to reduce vehicle idling. The parks estimate that, collectively, these projects will save $250,000, fuel equivalent to nearly 16,000 gallons of gasoline and more than 80 metric tons of greenhouse gases each year.  
The potential impact is even greater.  Through these efforts, the parks will help 32 million annual visitors understand the unique characteristics of these vehicles and how they, too, can save fuel and money when they return home.
If you're planning to join the 275 million people each year who visit a National Parkeach year, take a look at the vehicles around you and see if you spot any alternative fuel or advanced technology cars or trucks. With the collaboration between the National Park Service and Clean Cities, "America's Best Idea" just keeps getting better.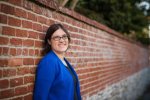 Shannon Brescher Shea
Shannon Brescher Shea (shannon.shea@science.doe.gov) is the social media manager and senior writer/editor in the Office of Science's Office of Communication and Public Affairs.
more by this author