You are here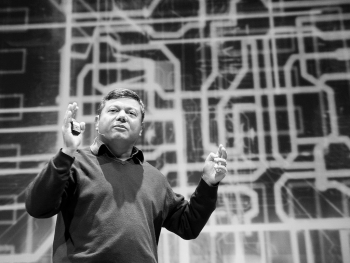 ARPA-E Director Dr. Arun Majumdar speaks to the audience at the TEDx MidAtlantic Conference in Washington, DC on Oct. 29, 2011. | Courtesy of TEDxMidAtlantic Flickr, Creative Commons license.
Can you imagine a world in which the pace and scale of innovation of the last 100 years is replicated and compressed into the next 10 to 20 years? That's the world ARPA-E Director Dr. Arun Majumdar described in his speech at TEDxMidAtlantic, an independently-sponsored TED event held in Washington, D.C. on October 29. TEDxMidAtlantic brought together a diverse array of speakers and performers, such as Chef José Andrés, comedian/musician Reggie Watts and one of the "Fathers of the Internet," Vint G. Cerf. TED events are meant to provoke discussions and build communities on a wide variety of topics, and Director Majumdar's speech was no exception.
Advocating an approach to clean energy where we invent and make clean technologies locally and then sell them globally, Dr. Majumdar "painted" the audience a picture of an America with a secure, clean energy future. Currently, the world's energy use and population do not always correlate with one another, meaning the areas of the world with the largest populations (Africa and Asia, for example) do not consume as much energy as other areas of the world (such as Europe and North America). Energy use is increasing in many of those high population regions as their economies grow and standards of living improve. At the same time, other areas of the world rely on imports such as oil to sustain higher rates of energy consumption. In contrast, Dr. Majumdar's vision of our energy future centers on supporting the invention of affordable clean energy technologies in the U.S., increasing their use within the U.S., and exporting them to the rest of the world.
The technologies of this future include those currently being researched and developed by ARPA-E's awardees, which range from developing a battery that will make electric vehicles a viable alternative to the internal combustion engine, to creating biofuels with electricity (or without using sunlight). In fact, the audience got a glimpse of the first sample of these electrofuels at the event in the form of a tiny vial of clear liquid that looks seemingly unremarkable but actually marks the first step toward the program's success.
In addition, Director Majumdar outlined the goals of the newest class of ARPA-E programs, announced during the recent round 4 funding announcements. These new programs — PETRO, REACT, HEATS, GENI, and Solar ADEPT — aim to transform the energy technology status quo by developing cheaper and more viable clean energy solutions.  For example, the PETRO program supports research to create crops that require less processing and capture more energy from sunlight. If successful, the program would finally allow biofuels to be cost-competitive with oil.
However, no one organization can create this future alone. The research and development of new energy technologies depends not only on ARPA-E and the Energy Department as a whole, but also with collaboration with the private sector. As Dr. Majumdar noted, "Being able to put the DNA of algae into a tobacco plant to produce a new biofuel means big tobacco and big oil working together toward a new energy future. What could be better?"