You are here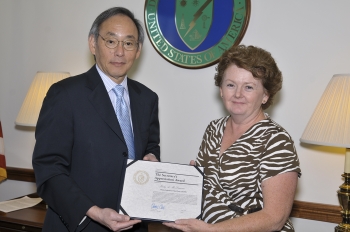 Judy McLemore from the Waste Isolation Pilot Plant led efforts to reduce the DOE's vehicle fleet by 20 percent, improving sustainability and saving money. Under her leadership, greenhouse gas emissions associated with business travel were reduced by 63 percent and travel costs were reduced by greater than 60 percent.
A representative of the Waste Isolation Pilot Plant (WIPP) near Carlsbad, N.M., on Tuesday received the Secretary of Energy's Appreciation Award for her efforts to improve sustainability and reduce travel costs and the number of fleet vehicles.
Judy A. McLemore, who works for URS Regulatory and Environmental Services, based in Carlsbad, was honored for helping advance DOE's management and operational excellence at WIPP. URS Regulatory and Environmental Services is a subcontractor to URS Washington TRU Solutions, WIPP's management and operating contractor.
McLemore implemented travel restrictions and challenged WIPP departments to meet a DOE requirement to improve sustainability performance. Under her leadership, greenhouse gas emissions associated with business travel at WIPP dropped by 63 percent compared to the fiscal year 2008 baseline. WIPP departments also delivered a 63 percent reduction in business ground travel in fiscal year 2011. Those costs dropped by $20,000 in fiscal year 2011 and they are projected to decrease by $140,000, a reduction of 50 percent, in fiscal year 2012. McLemore also contributed to WIPP's achievement of a 20 percent reduction in its vehicle fleet over the past two years.
The reductions at WIPP work toward a larger goal being pursued across DOE. In January 2011, Secretary Chu issued a memorandum calling for a 35 percent reduction of the DOE vehicle fleet.
Despite WIPP's remote location — the nearest large airport is more than 150 miles away — each department helped achieve the decrease in travel costs. Workers shared vehicles more often and increased the use of technology options. For example, personnel at the Central Characterization Project (CCP), which saw a 75 percent drop in its business trips, conducted more meetings through conference calls and video conferencing. CCP personnel also conducted interactive electronic document reviews with regulators instead of meeting in person and reduced rental car usage by standardizing travel arrangements so that only one rental car is necessary per trip. CCP is responsible for characterization and shipment of virtually all the DOE transuranic waste across the DOE complex for safe and expeditious disposal at the WIPP site.