You are here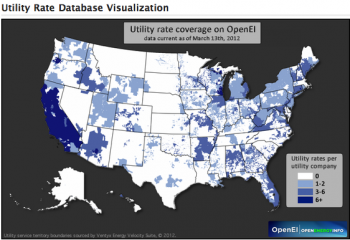 The National Renewable Energy Lab's (NREL) utility rate database is a great resource for developers entering the Apps for Energy competition. | Map courtesy of NREL.
This article is cross posted from OpenEI Blog.
More information about the Energy Department's Apps for Energy competition -- including a sign up form for competition updates --  is available here. 
The recent Green Button announcement by President Obama introduced the "Apps for Energy Challenge," intended to spur developers into making apps leveraging energy data to help define energy saving strategies, understand green button energy consumers, understand the green button energy market, and help collect even more user data.
So where can you find data to help develop an app? A great place for developers to get involved in the challenge is by utilizing the data and information of several resources at the National Renewable Energy Laboratory in Golden, CO. Here is a list of several resources that can help developers create energy apps:
PVWatts: The PV Watts calculator allows homeowners, installers, manufacturers, and researchers to easily develop estimates of the performance of hypothetical PV installations. To access the PV Watts API, click here.
The service is built to handle the generation of sample datasets, meaning it is a great aid to developers looking to generate a sample dataset of PV performance data. The generated dataset can then be used in an app focused on analyzing PV installations.
OpenEI: OpenEI is a great place for a developer to learn more information about the energy industry and individual energy markets. OpenEI also has hundreds of public datasets that can be downloaded and re-used. The datasets can help developers as temporary datasets until more utility data becomes available through Green Button. Some featured datasets on OpenEI include:
The National Solar Radiation Database 
Alternative Fueling Station Locations 
EIA: U.S. Renewable Energy Consumption by Sector and Source
These datasets are ready to be downloaded and plugged into an app. Developers can use the metadata wrapped around each dataset to generate app ideas, and find out what format the data is in, or where to access the data directly. To learn how to leverage OpenEI incentives data, visit OpenEI's documentation and API page.
For a list of development resources, documentation, and standards at OpenEI for Green Button Developers, visit the Green Button Developer page. 
Utility Rate Database (on OpenEI): This tool emphasizes the power of crowd-sourcing for helping the database have relevant and accurate information. There are currently over 400 rates in the database with more being added each day. These datasets are a great resource for a developer to insert sample utility rate data into an app related to nationwide utility rates.
The number of entries in the database was boosted by a recent award from the U.S. Department of Energy. Illinois State University won the $850,000 award, funded under the DOE SunShot Initiative, to populate and maintain data in OpenEI's utility rate database. This effort will vastly increase the comprehensiveness of the database, while ensuring accuracy of all data entries. To access the Utility Rate DB API, click here.
BEopt: BEopt provides detailed simulation-based analysis on specific house characteristics, such as size, architecture, occupancy, vintage, location, and utility rates. Discrete envelope and equipment options, reflecting realistic construction materials and practices, are evaluated. 
Data from BEopt can be used by a developer to create apps related to home energy use based on housing characteristics. The BEopt tool is a great resource for finding sample building data.
For the latest Apps for Energy news and announcements, check in with us on Facebook and Twitter.