You are here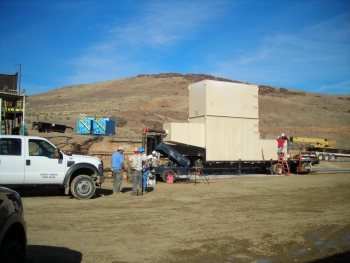 Set up at the Neal Hot Springs project | Photo Courtesy of the Department of Energy Loans Program Office
Today, the Department of Energy finalized a $96.8 million loan guarantee, supported by the Recovery Act, for U.S. Geothermal, Inc.'s project to build a major geothermal power project in southeastern Oregon. The company estimates the project, known as Neal Hot Springs, will create 150 construction jobs, more than a dozen permanent jobs and many more supply chain jobs across several states, including Texas, California and Ohio.

As Secretary Chu said, "The Neal Hot Springs project will provide clean renewable energy directly from our nation's vast natural resources while simultaneously creating jobs and helping to promote energy independence."
Geothermal energy is thermal energy generated and stored in the Earth. Unlike coal-fired and natural gas-fired power generation plants, geothermal plants produce virtually no greenhouse gas emissions.

And the Neal Hot Springs project will use a first-of-its-kind improved technology, called supercritical binary geothermal cycle, to extract energy from rock and fluids in the Earth's crust more efficiently.
Since 2009, the Department of Energy has issued nearly $18 billion in loan guarantees or conditional commitments for loan guarantees to support 19 clean energy projects throughout the U.S., including two of the world's largest solar thermal projects, the world's largest wind farm. You can learn more about these critical clean energy investments here.