As the Energy Department's Advanced Research Project Agency-Energy (ARPA-E) Innovation Summit came to a close, energy leaders were challenged to take innovation to the next level. Innovation shouldn't just be about inventing new technologies, it should also involve bringing ideas from the lab to the market.
This message about the need to commercialize new energy technologies was echoed throughout keynote speeches, fireside chats and on the floor at the Technology Showcase. Clean energy technologies are essential to the global transition to a low-carbon future -- as Energy Secretary Ernest Moniz highlighted in his keynote address. This transformation will rely on driving down the costs of technologies, and as he told those at the Summit, "it's your responsibility to do it."
But as many Summit participants indicated, they can't do it alone. Whether from academia, the financial industry, or business, Summit speakers pointed to the invaluable role that the Energy Department -- and ARPA-E in particular -- plays in furthering innovation. ARPA-E provides relatively small grants to researchers and companies with transformational ideas for energy technology, and to help move the technologies to market, ARPA-E facilitates relationship building across the sectors. This building of viable collaborations is a major focus of the annual Innovation Summit.
In just five short years, ARPA-E has been able to see the innovation cycle come full circle -- from ideas developed into products, partnerships formed and products moved to market. At least 24 ARPA-E awardees to date have generated spin-off companies to continue to take their technology innovations from the lab to the market. And awardees, like Smart Grid Wire, which designed a solution for controlling power flow within the electric grid, and Autogrid, which is developing real time demand response software for the grid, are moving toward commercial applications.  
After three days of networking and knowledge sharing, the energy leaders at the Summit are well primed to scale up their innovations into products that will help us move to a clean energy future. 
For more ARPA-E innovations, check out the slideshow of the Technology Showcase.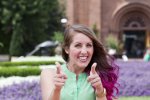 Rebecca Matulka
Served as a digital communications specialist for the Energy Department.Served as a digital communications specialist for the Energy Department.
more by this author