Today the Energy Department's Advanced Research Projects Agency-Energy (ARPA-E) kicked off its fifth Energy Innovation Summit near Washington, D.C, -- an event that brings together innovators, academia, government and industry to discuss pressing energy issues and collaborate on innovative energy technologies.
To set the stage for the three-day event, Dr. Sylvia Earle -- oceanographer Explorer in Residence of the National Geographic Society -- discussed the critical importance of water and the changes in the ocean's natural systems she has seen since in her lifetime. Yet, we have an unprecedented opportunity, Earle said, and engineers, entrepreneurs and innovators have the chance to shape our world for the next 10,000 years. 
Throughout the rest of the day, the discussions focused on the importance of knowledge and networks. Partnerships are key to bringing transformative energy innovations to market, and the ARPA-E Summit gives innovators the chance to build the relationships that are necessary to transition technologies into successful commercial products.
The importance of collaboration was highlighted in ARPA-E's newly released video on biofuels. Featured above, the video illustrates how academia, industry and government are working together to create a sustainable future.
Representatives from more than 20 federal government offices were on hand to talk energy during lunch, and attendees had the opportunity to network in small groups about energy topics that interest them. The Summit wrapped up with the Future Energy Pitching Session -- a chance for eight early-stage startups to present their technologies to a panel of venture capital investors. The startups received feedback on their presentations, opening up the doors to potential commercialization.
Tomorrow, the Summit starts bright and early with the Technology Showcase -- a display of more than 250 cutting-edge technologies. It will also feature a fireside chat between Secretary of Energy Ernest Moniz and White House Counselor to the President John Podesta. For live updates from the Summit, follow @Energy or @ARPAE, and for a daily wrap up, visit Energy.gov.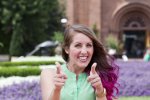 Rebecca Matulka
Served as a digital communications specialist for the Energy Department.Served as a digital communications specialist for the Energy Department.
more by this author